Leave a Comment
After graduating with a master's degree in architecture at École Speciale d'Architecture, Natacha Mankowski (1986, FR) worked with Vito Acconci, Jean Nouvel, Anne Demians, and Dominique Perrault. In 2012, Natacha won the Tony Garnier Prize for Architecture and Urbanism awarded by the Académie Française d'Architecture. From 2014 onwards, she became a member of the Taylor Foundation. That same year she makes a U-turn into art and begins her first art residency of many.
"I was just missing creating on the day to day. With architecture, you have such a long span of time until you get something built. It's also a very administrative work. I didn't feel totally myself. (…) In a way, I entered painting through space. I was studying a lot of abandoned buildings, empty rooms, and I would draw that. I used architecture as a way to paint, and I still do. When I go on residencies, I visit specific spaces: quarries, dry docks, big empty structures built by humans in nature. It began with this idea of looking for unwanted architecture or resulting from the hand of man. I would paint that, and I still do. (…) I was never someone who was based somewhere. Every two-three months I would go on residencies. This is how I started my work as a painter because I never had an art education in college … So I decided I would teach myself through those residencies. I tricked the system a bit, but in a good way! I entered this residency about urbanism and public space using my architecture portfolio. Arriving there I said 'okay I am just going to paint spaces'. I switched the whole perspective of my work but they were really open-minded with this."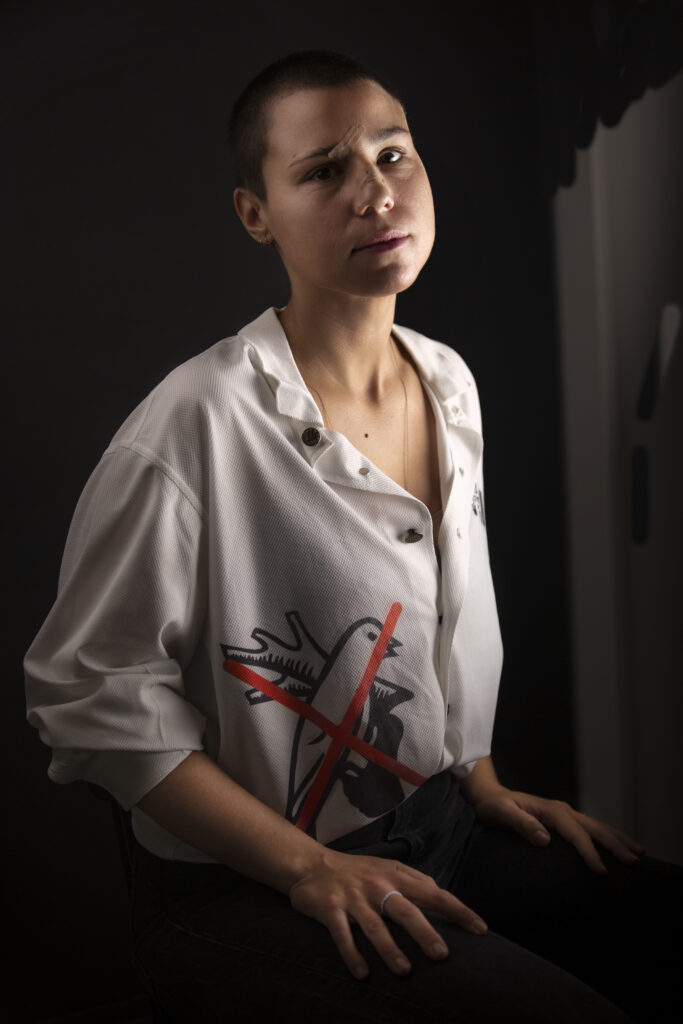 Her work shows the transition from Natacha as an architect to Natacha as an artist. Initially, her focus lies on creating an architectural space on the canvas. There is a gradual shift of focus towards the texture and the materials she uses. Now, she usually mixes sand, clay, and marble powder in the oil paint. It makes for a thick paste-like texture.
"I think it's going more and more towards 'sculpted painting', if you could call it that. I'm very much interested in how you can make a mark in the painting: with your fingers, with instruments – a bit like you would play as a kid with modelling clay – very raw, very brute. (…) I am trying to use the painting not as an object but as a wall or as something you could enter into. I am not sure yet of how it's going to look. (…) I also started to work on the idea of the frame. This [frame] is literally the same texture as the painting. I use clay, or I mix oil, wax, marble powder, or whatever I find on the ground, [dried] flowers, pigments, and then I melt them. Depending on the quantity of oil it becomes soft or hard. You can sculpt it or model it. I just put my fingers into it to stretch it and even I use my shoe. I'm trying to recreate what you find on the floor of the place I visit and take it into the painting or the frame. Basically, the frames are made from the same [material] as the paint. (…) I am trying to go beyond the limit of the canvas (…)."
During her first residency in Amsterdam (and the Netherlands), Natacha has easily integrated into the Amsterdam art scene. Last year, Florence Parot, one of the curators of Play Station Sloterdijk, reached out to Natacha. The two met during Florence's curatorship at Centre Pompidou in Paris. With Natacha's background in architecture, making art in the public space of station Sloterdijk fits within her practice. The result is The Square, an architectural diorama on the NS depot, which leaves the viewer wondering: what takes place inside? Since then, she has had group shows at ISO and De School, collaborated with sculptor Alexis Bondoux, and is currently working on a series on Andalucía.
"This series [Andalucía] is strange. I lost my grandmother in April this year. She was a pillar in my life. I did this series on the region where she used to live and where I started to paint when I was with her. It was a personal story that I wanted to tell. (…) Sometimes you have all these ideas of how you want to honour a person when they die. Sometimes I would see myself knowing what to say at their funeral because she was such a special person. So I envisioned this and when you can't have this, you still want to honour this person. Then you just do it the way you do it best. You use your art to push yourself to remember this person, and how you can honour them differently. [My grandmother] lived in Andalucía. She was English, and she travelled a lot. I visited her many times. When you are alone with somebody, you develop intimacy. I was really able to paint with her and experiment. She wasn't an artist per se, but she always was very supportive of the Arts. She had really strong opinions – even if she would change her mind – she would always be vocal about them. I think this is part of being an artist: believing and fighting for your ideas – sometimes being intense about it – but just going for it. I think I learned that from her."
What is next for Natacha Mankowski?
"I recently went to the island of Evia in Greece. There are hot springs there. The whole floor is made of clay and you can bathe on it. Hot water comes out of the ground at 50-60 degrees. It's extremely hot but because it's next to the sea, the two waters mix to create this strange communion of two worlds. It really looks special. I would like to do a new series about this place."
"I have all these ideas but I think it needs context."
Visit Natacha Mankowski's website
Photography by Roman Ermolaev
Written by Nilsu Göçer