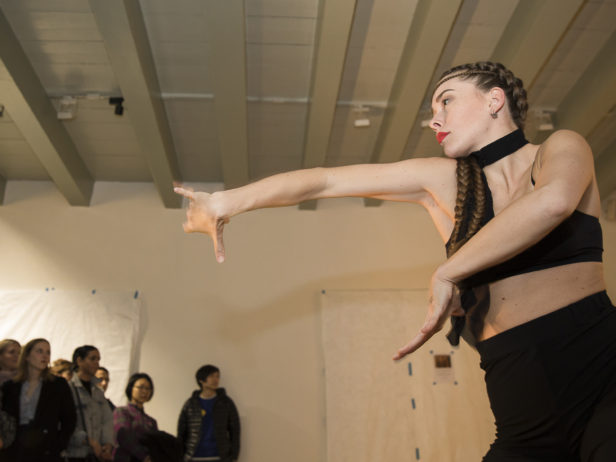 WOW at Museumnacht
What a night! During last edition of Museumnacht on 4 November, WOW Artists in Residence activated Huis Marseille with a programme full of excitement and surprises.
Spatial designer Laura A Dima initiated visitors into this magical event through a ritual mask making performance. Visual artist Alban Karsten created a site-specific performance, The Guide, during which he investigated the space of the museum together with the audience. Fragrance designer Klara Ravat, inspired by the Seaford beach breeze tangible in the exhibition Landscape with Tree by Jamie Hawkesworth, designed a smell specific for the evening. Fashion designer Ting Gong guided the audiance to another planet with the presentation of her new collection Readynotreadytowear. Dancer Junadry Leocaria together with Tamara Robledo Oud (in the picture above) performed a spectacular duet inspired by the many female bodies and minds presented in the photographs in the exhibition.
See for more pictures our Facebook album.
Photography by Cloud Mine Photography.