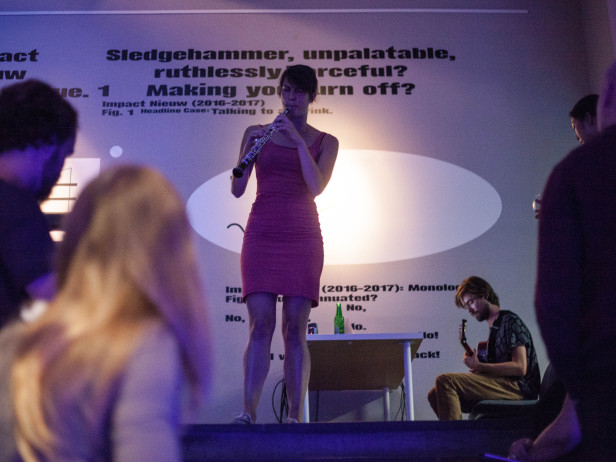 Vertical Concert
Saturday 3 september 2016 two of WOW's most talented musicians (artist in residence at WOW) came together during a one-off live performance that uses the particular acoustics of the Vertical Gallery – the stairwell. Bram Stadhouders is a virtuoso guitarist who performs all over the globe; Marlies van Gangelen one of the most respected oboists in the country. Two young talents who elevate modern music onto higher planes. The concert was a big succes, a wonderful experience for many…
Four speakers were be placed from the bottom to the top of the stairs. From them sound hyper-realistic church organ melodies. Bram Stadhouders let those dance through the space in rhythmic patterns, transforming the stairwell into a virtual cathedral upside down. Guitar and laptop were his instruments, while Marlies van Gangelen improvised on oboe, thus creating lines in the musical landscape. She herself moves along the stairs, too: rhythm, usually a purely musical element, was now spatial as well.
Bram Stadhouders​ (1987) is considered to be one of the most interesting musicians based in the Netherlands. He studied electronic music at the Utrecht School of the Arts, and then got a Master's degree in composition at the Koninklijk Conservatorium – Royal Conservatoire of The Hague. His love for the human voice has led him to work with extraordinary vocalists such as Sidsel Endresen and the Netherlands Chamber Choir. For the way Stadhouders composes, there is no difference between "classical" musicians and "improvisers". The two worlds seem to blend effortlessly in his work. His endless energy has brought his performances to mayor festivals and stages all over the world, for example his longterm collaboration with Poland's most famous saxophone player Grzech Piotrowski. He has released 7 CD's.
Marlies van Gangelen​ (1988) studied at the Conservatory of Utrecht, after which she continued her lessons at the Conservatorium van Amsterdam with Ernest Rombout, where she graduated with a Bachelor of Music in 2011. In 2012 Marlies moved to London to follow a Master's in Leadership at the Guildhall School of Music and Drama. During this course she focussed on artistic and creative processes in various contexts. She developed new skills as composer, artistic leader, improviser and performer. In London she became a member of the London Improvisers Orchestra (2013-2014) and joined the collective Africa Express, an initiative of Damon Albarn (fame of Blur and Gorillaz). Recently Marlies was asked to join the Dutch-based The Kyteman Orchestra. This orchestra was founded six years ago by Colin Benders, who aims at a mix of hip-hop, jazz and classical music. In the summer of 2016 she played a David Bowie tribute in the Royal Albert Hall with stargaze.
Photography by Françoise Bolechowski​.
Please see all pictures in our Facebook album.