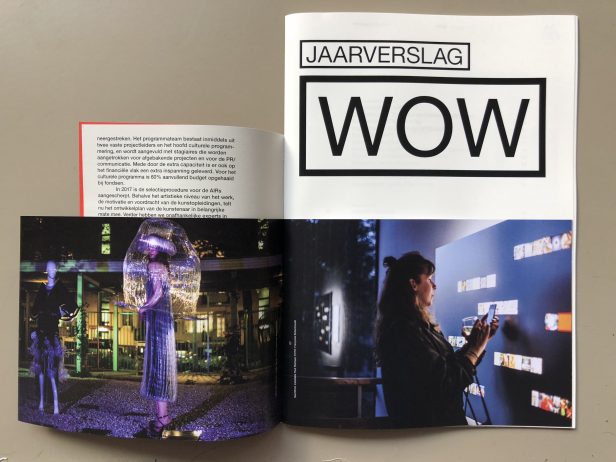 Year report 2017
Scroll down for Dutch and for the pdf. 
Amsterdam is in change. In 2017, the theme of the changing city will be prominently on the agenda. How can the city best deal with the many new residents and tourists who present themselves? That is not only a matter of housing and accommodation, but also of quality. How does the changing city not only remain a viable city, but also an interesting city for both Amsterdammers and visitors? It is in WOW's DNA to contribute to this change. That is why WOW offers:
attractive and affordable accommodation for tourists in a location that relieves the center of the city.
a contribution to an interesting cultural climate in the city by supporting the start-up of young artists.
a dynamic cultural program for visitors and Amsterdammers. WOW brings these groups into contact with each other and involves the surrounding neighbourhood in the program.
opportunities for the integration of newcomers with special training programs together with educational partners in the city.
a contribution to a safe city by providing space for social relief and working together with street coaches.
—
Amsterdam is in verandering. In 2017 is het thema van de veranderende stad prominent op de agenda komen te staan. Hoe kan de stad het beste dealen met de vele nieuwe bewoners en toeristen die zich aandienen? Dat is niet alleen een kwestie van woningen en accommodatie, maar ook van kwaliteit. Hoe blijft de veranderende stad niet alleen een leefbare stad, maar ook een interessante stad, zowel voor Amsterdammers als voor bezoekers? Het zit in het DNA van WOW om aan deze verandering een bijdrage te leveren. Daarom biedt WOW aantrekkelijke en betaalbare accommodatie voor toeristen op een locatie die het centrum van de stad ontlast.
een bijdrage aan een interessant cultureel klimaat in de stad door de startup van jonge kunstenaars te ondersteunen.
een dynamisch cultureel programma aan bezoekers én Amsterdammers. WOW brengt deze groepen met elkaar in contact en betrekt de omringende buurt bij het programma.
kansen voor de integratie van nieuwkomers met bijzondere opleidingstrajecten samen met onderwijspartners in de stad.
een bijdrage aan een veilige stad door ruimte te geven voor maatschappelijke opvang en samen te werken met straatcoaches.
The WOW year report 2017 (in Dutch) can be downloaded here.