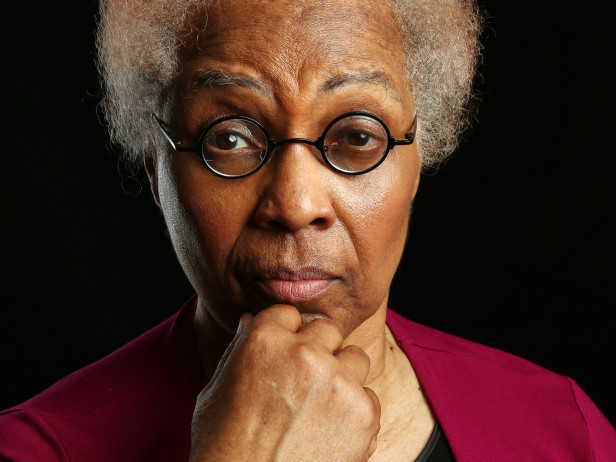 Astrid H. Roemer
Writer Astrid Roemer opened the exhibition 'Guess Who's Coming to Dinner Too?' Thursday 29 June 2017.
Guess Who's Coming to Dinner Too?' is a community art project by visual artist and activist Patricia Kaersenhout, in cooperation with the Amsterdams Grafisch Atelier (AGA LAB), Het GildeLab, BYBROWN and WOW Amsterdam. With this project, Kaersenhout (1966) delivers an artistic critique of Judy Chicago's 'The Dinner Party' (1979), which celebrates strong women but but underrepresents women of colour. Inspired by this work, Kaersenhout builds an installation consisting of a large triangular dining table, full of symbolism, where she honours 36 Black women, 'heroines of resistance'. The exhibition opened by a performance on Thursday 29 June, during which a group of men performed a 'haka' (a Maori ceremonial war dance) in honour of women, while wearing robes specially designed for the exhibition. The linings were printed with images and texts about the heroines, all from non-western cultures. They resisted their oppressors and advocated equal rights and are thus represented on the table. During the performance their stories are borne literally and figuratively by the men.
Read all about the project here.