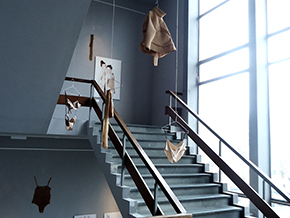 INCONTEXTURE
Exhibition InConTextUre published on Styleindicator.com!
The exhibition InConTextUre in the Vertical Gallery of WOW shows a cloth series inspired by human body textures which we like to hide and avoid. This project shows that those structures are interesting and can be seen as body decorations. Interested in the paradox that we do not like to have those structures – what happens if they become fashion? Would we then like to have them?
The human body is a fascinating phenomenon to observe. There are temporary appearances and elements, which change with time. For example when the body of teenager girls gets a more feminine shape or when the belly of a pregnant woman gets bigger the skin has to grow fast in a short time – stretch marks on the breast and hips will stay as as a result. The skin has a variety and diversity of interesting surfaces (wrinkles, cellulitis, dry skin), delicate ornaments (liver spots, warts, stretch marks, love handles or beer belly) and beautiful color ranges and gradients (bruises, acne and public hairs). Why are those skin structures seen as less beautiful? Why do we prefer not to have them on our body?
Debora Dax
Debora Dax is a Swiss Design Academy Eindhoven student shows her new project InConTextUre: a clothing series inspired by human body textures which we all like to hide or avoid, like 'love handles'. Debora lives as an artist in residence Already as a child Debora wanted to know why things are and how they work. Still she is driven by those questions. Fascinated by psychology she often reflects on the human behaviors and emotions. She is interested in the critical view from different perspectives in a social and cultural context. With her playful but provocative projects she likes to make people realize, rethink and maybe even adapt their doing. With the Waag Society Amsterdam she works on a research project. Debora has the aim to collaborate between social science, institutions and public.
InConTextUre, concept, design by Debora Dax (Design Academy Eindhoven, Man and Communication, 2014). Photography by Jose Pasmans, Models: Cleo Kerkhof and Hannah Hurtz. 
The exhibition was on show from 30 March – 16 May in WOW Amsterdam, Vertical Gallery. Thanks to Gemeente Amsterdam – Stadsdeel West and Rijnja, Amsterdam