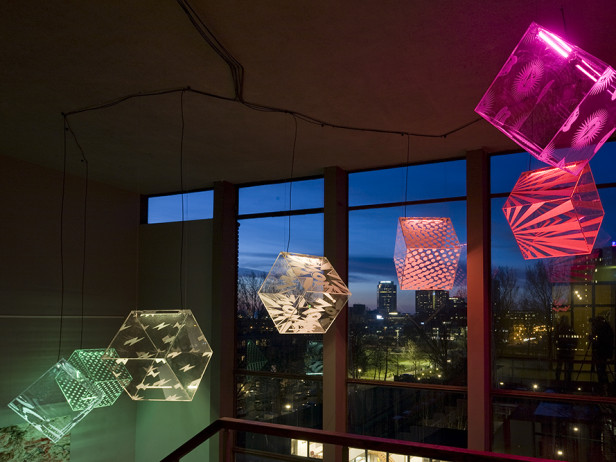 Launch of the Light object
After some months of hard work the "Super-Wow! Light Object by Agnieszka Dziewit has been launched in our Vertical Gallery during the event WOW OPEN AIR. 
Inspired by the Pop-Art trend of the 1960's, the Light Object honors the WOW building's construction era.  Each cube is engraved with a different pattern corresponding to the Pop-Art Comic Book theme, and altogether they create a dynamic shape of a 3D letter S-for-Superman, flowing over the top of WOW's Vertical Gallery, and giving the space a new light!"
Intro
Besides showing their works of art WOW also asks young designers to help us transform the WOW building into a more arty space. For this project we have been working with Agnieszka Dziewit, a young architect with a passion for lighting design, who won our competition 'Lighten Up' and designed a wonderful light installation for the staircase of WOW. Since December 2015 Agnieszka has been supervised by Rogier van der Heide (curator Amsterdam Light Festival and Senior Vice President & Chief Design and Marketing Officer, Zumtobel Group) and Dick Vonk (engineer and specialist in lighting design) to realize her work in a short period of time. 
Who is Agnieszka Dziewit?
Dziewit was born and educated in Poland. She graduated as an architect from the Cracow University of Technology and has a passion for Lighting Design and Visualization. She came to the Netherlands in 2012 to follow a Minor Lighting at Hogeschool van Amsterdam. Until recently she worked as a Trainee CG Visual Artist in A2studio in Rotterdam. 
Design
When WOW launched the competition 'Lighthen Up' Agnieszka found herself inspired by the modern (sixties) architecture of the WOW building, but also by the young artists living there and other trends and heroes from the sixties, like comic books Superman, Pop Art, Andy Warhol, Roy Lichtenstein, and decided to make a tribute to pop art in lighting! Her object consists of a series of engraved plexiglass cubes of 60x60x60 cm, suspended from ceiling in the shape of a 3d letter "S", illuminated by RGB LED lines. Each cube displays a pattern related to the comic book trend in Pop-Art of the 1960s.
The jury appreciated her work because of its 'WOW feeling' and practical solutions. The plexiglass has been engraved with a laser-cutting machine at the UVA, glued into cubes by OPS, and was installed with the help of InventDesign. See our Facebook album for more of the pictures that were taken during the festive launch of the Super-WOW! Light Object.
Second light object
Because WOW was so amazed by another design for our competition 'Lighten Up' we decided to realize a second light object in the building. The design is by Bob Vos who will unveil his work at the end of April in the staircase between the ground level and first floor. We will keep you posted! 
The project was kindly supported by lighting design experts Rogier van der Heide and Dick Vonk and Zumtobel lighting.
Photo by Marcel van der Burg.