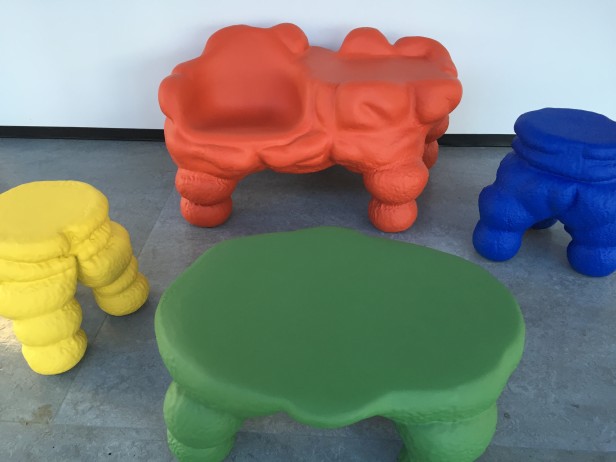 MISFITS in WOW!
Happy that the 'Misfits' by HandMade Industrials​ have landed in WOW! After Rutger and Marlies showed their black Misfit chair in our exhibition Slow Tech (curated by Jeroen Junte), the idea arose  to ask them to design a small set of furniture especially for WOW. Read more on the makers!
HandMade Industrials
HandMade Industrials founders Rutger de Regt and Marlies van Putten met during their studies at the Royal Academy of Arts in The Hague. They share the same interest in experimental design by process based principles. While Rutger is keen on social and inventive themes Marlies is more poetic in her  work as a designer. After an invitation to create a piece for a charity design auction Rutger de Regt invited Marlies van Putten to join the project. This was the start of the collaboration that led to the founding of HandMade Industrials. By teaming up they discovered their work and philosophy could make a difference for the designer makers of this time.
Handmade Industrials contradict industrial standards by removing the aim of vast quantities. The studio, is based in The Hague and creates conceptual furniture. By using existing industrial techniques and materials in a different context, their objects reflect the contrast between industry and craft.
Passion for materials and an inventive character is the base of all their designs. instead of a first sketch, new projects begin by discoveries made during experiments. This results in an organic design process which is not forced but reflects the character of the material. The aim is always to create objects that have an own identity, while setting up a serial production process, each piece is unique. De Regt: "By reclaiming industrial possibilities we create the opportunity to notice the value of materials used in our everyday life".
Misfits
Happy Misfits  is a series of chairs made from polystyrene, a common plastic often used as insulation material.  To make the furniture, de Regt developed a process that uses traditional techniques. A balloon is filled with styrofoam pearls and an epoxy hardener. The balloon is then stretched around a chair and secured with straps. Once the styrofoam pearls have hardened, the balloon is sculpted in the form of a chair.  Finally, a soft rubber layer is applied over the plastic. De Regt intentionally uses cheerful colours and underscores the use of everyday plastic by finishing the chair with a tactile coating. Happy Misfit is a witty chair which resembles a misshapen bodybuilder. Although the Happy Misfits are made of heavy industrial plastic, they have the appearance of unique handmade pieces. The odd shape provokes surprise, while the comic silhouette of a misshapen bodybuilder ensures recognition. De Regt studied at the Royal Academy of Fine Arts in The Hague. Together with his partner Marlies van Putten, he now works under the name Handmade Industrials.