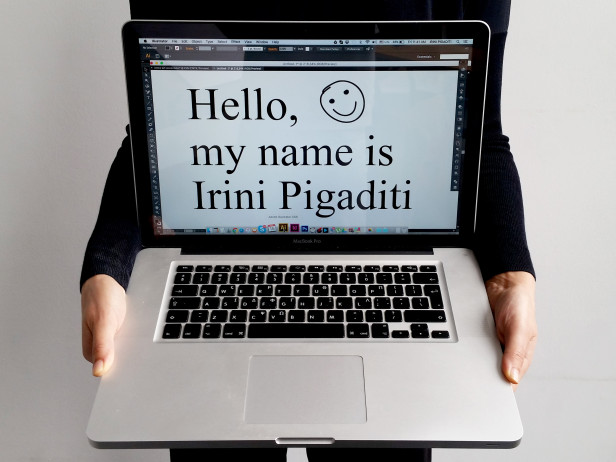 Irini Pigaditi
WOW Artist in Residence Irini Pigaditi is one of the first talents who moved into the WOW creative community. She is a freelance Graphic Designer and she has graduated with a MA from AKV|St.Joost in Breda. On April 28th during WOW Exchange you will get the opportunity to buy and participate in the first step of her recent self-initiated project 'FFFF. Stretched beyond future', which she presented also during WOW Open AIR.
STARTING POINT

"There are a few things influenced me besides my greek origins and the political tension that is a reality in Greece since 2008. That was my collaboration with Mediamatic for a bottom-up exhibition about Gezi riots in Instabul and my involvement with the participants, a group of Turkish artist and activist. My most recent experience, when I found myself in Paris the night of the terrorists attacks after Design graphique Paris-Londres and John Morgan's lecture at Centre Pompidou. So I started working on it by reflecting on things that interested me."
VISUAL POEMS

"I've designed four visual poems – Future, Finance, Fitness, Flexibility – by using buzzwords from the urgencies of the present to reflect the modern condition we are living in. FFFF will be a Post-Future gym for flexible lifestyle workouts in the contemporary world. The next step is to create a narration between visual poems and amateur performance based on the four different grids of the designs.
FLEXIBILITY WORKOUT

"I always wanted to do something with my body. As a designer I work almost 10 hours a day in front of my computer and this is quite stressful for the body. Before I became a graphic designer I used to be very active, so I wanted to go back and involve also my body in my practice. For me it's very important to fill the gap between corporeal performance and my more graphic design oriented practice as a simpler, rougher way of doing things. For FFFF, I would like to incorporate the four different designs into an amateur performance of flexibility workouts. I will do this by re-create the modular grid of the visual poems at the space and then use it as a guide for the workout routines".
WATER

"The water bottle often manifests itself in the material of health and fitness. Fluidity is leading metaphor for the present stage of the modern era. Nowadays almost everything keeps constantly changing. The fashions we follow, what captures our attention, what is right today could be a terrible mistake tomorrow e.t.c. My present for example keeps changing very fast and the conditions in which I make my living or plan my future or I connect and disconnect to some people also changing. Here, is also a metaphor of the liquid and boundless state that I aim to reach through".
POST-FUTURE

"The Future is over. 1977 is the point that the perception of the future shifted. We can identify it in British punk, new wave and media revolution of the '90s. 1977 was a very violent year with big riots in Italy and Great Britain, mass youth suicides in Japan, the European financial crisis leaded to austerity and hight unemployment. 1977 is the year of passage beyond modernity. In Europe we can identified in Baudrillard, Deleuze, London punk, in USA in the artistic and musical 'no wave', in Japan became daily normality. From the big expectations of the Futurists at the beginning of the 20th century, the colorful occupation of public space during 60's we shifted to the "No Future" of Sex Pistols, "No More Heroes" of The Stranglers, Apple and information technology. Today, Franco Berardi argues that the future no longer exist because the present we are living in is too unstable and the circumstances are changing very fast. Post-futurism means to slow the world down and be happy sharing the wealth that comes from past industrial labor. We do not need more things, we need more time.
WOW

"It's not the first time for me to live in an artist community. I feel very fortune because I've met like-minded people which we collaborate in beautiful projects, learn from each other or suffer together!"

For more information check out Irini's website (coming soon)
by WOW