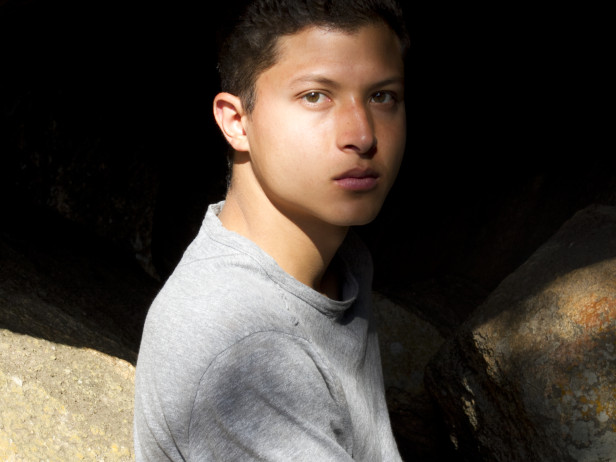 xavier robles de medina
WOW talks to Surinamese artist Xavier Robles de Medina whose detailed work has enchanted many, including the 2015 Prix de Rome jury and the international gallery scene.
Hoping to catch the few sunrays left of autumn he suggests talking behind WOW's high-rise. We go outside, and the conversation with Xavier Robles de Medina, WOW artist in residence since May, kicks off with him enquiring after his interviewer's interests. When I mention the London theatre scene, he springs into action: nineteenth-century British painting, he says, could be very theatrical. Turner is one of his favourites. Thinking about the drawing Xavier is working on, of a burning house, I can see why: imbuing the physical with a sense of symbolism, never explicit but always there. He also quotes Ophelia by Millais, with the water about to envelop the girl, depicting a scene dramatic both literally and in spirit.
painstaking
At that time, photography encroached on painting's territory. Why pore over a scene for hours if you can take a picture? Modernist ideals in art meant that the act of painting and the materials used became more important than a lifelike image. In a playful twist, Xavier, an artist with a great awareness of historical perspectives, bases many of his drawings on photographs, smoothing over their weak spots and adding an emotional layer to the work. ''It's photorealism. I'm very interested in the properties of photography, especially within the images that make up the news. But I feel there's imperfection in every picture, digital abstraction that doesn't quite make physical sense when you study it closely.''
''Suriname's past and present issues deeply concern me, I think because I haven't quite made sense of this society, which has shaped who I am. It seems to me that many aspects of its past are complete mysteries, and its future is very unpredictable. I have based works on grainy smartphone pictures from Surinamese news outlets, the work starts by very carefully selecting the image, then I work on a super-smooth paper to reinterpret it. I consider every square inch of the composition to create a picture that blurs the line between the mechanical and the hand-crafted.''
how much sleep do i need?
Xavier's work is extremely time intensive, some pieces taking several months of disciplined chiselling to complete. Every project he undertakes is lengthy, intense and requires meticulous attention to detail. This past May Xavier exhibited three photorealist oil paintings in a joint exhibition called "Fictions and Constructions" alongside artists Rui Chafes and Felix R. Cid at Catinca Tabacaru Gallery, in New York's Lower East Side. ''The time pressure was immense. I think I was able to deliver because of my experience dealing with stress in competitive tennis. While I was working on those paintings I was also nominated for the Prix de Rome and that required so much time, because I knew the proposal and all the writing elements had to be excellent. I remembered my experiences in tennis, regarding strategy and structurally organising yourself to achieve your goals. Similar to how a service is the result of all the services you have ever practised and understanding when it's match point, when it's time to close in and be aggressive. I laid it out for myself: how much sleep do I need? Six hours. How many breaks in the day? Two or three… I lived with that rigour for months."
Intended for sale, the works might end up anywhere once bought. ''I don't mind, but I do like the aesthetic of the gallery, the spacious white wall, with a sparse hang allowing the work to breathe. My ideal home would look like that, just white walls and big windows, every room. It makes the work much more powerful. I don't like it when art is a secondary element to a living space, or treated as decoration.''
Ping pong
Mere days after the works were shipped to the States, Xavier moved into his room at WOW. ''You have some brilliant people here. I feel really humbled to be able to work and live around such huge talents.'' Part of the appeal is becoming friends with much admired fellow artists in residence. Bram Stadhouders for instance, whose new album Cantata has become a staple on Xavier's studio playlist. ''It's funny to listen to Bram's album on repeat, which is deeply solemn and operatic, then go upstairs and play ping pong with the dude,'' he laughs.
There are many lonely days if you work like Xavier. For him, it's not a bad thing: ''I realised a long time ago that I rather spend time by myself just thinking or with music and art than with people.'' As we enter his studio, another scrupulous drawing catches my attention. Half-finished, it shows a house burning. It's arresting, but Xavier's explanation makes it even stronger. ''The image has a metaphorical weight: the conjunction of fires with political or social upheavals in Suriname, nurtures a symbolism that also alludes to ideas that are more poetically suggested or implied. Human history is a continuum, or even a moment if you compare it to the history of the universe and planets. The events of fifty, or five hundred years ago are unequivocally tied to our experience of the present.''
So many ideas, so little time
The artist's interest in politics and his home country's troubled past is but one of his inspirations, however. He concedes it's important but tells me there are always five or six conceptual lines in his head that he could follow. They are there at all times and continue to evolve, but practicalities and time prevent them from materialising more quickly. Asked for an example, he mentions a fascination with hair ads while living in Brooklyn, New York. It conjured up images of waves of hair, frozen in time at its most dramatic point, evoking artists like Caravaggio, Raphael, and even Delacroix. ''It conversely became abstract expressionism for me.'' He shows me moulds for reliefs based on those shapes, in turn taken from a collage of snippets of the advertisements.
That lack of time pushes the conversation briefly to workshop practices and assistants. With all the ideas in his head, you wish he had a bunch of the latter. Having worked for other renowned artists himself, he doesn't condemn the idea either. Most of the time though, the master's hand is essential for a satisfying result. It's passionate drawing and supersedes technique. Copying the basic outline of a photo, enlarging a sculpture – those might be done by someone else. Yet the lion's share cannot be delegated. For us, that sadly means waiting just that little bit longer…
The drawings on the right were made during a residency in Zimbabwe and show the Nharira Cave, a sacred place for local tribes. Access was negotiated through spiritual elders and accompanied by ritual and reverence (Nharira Cave 1, 2015, chromatic ink pen on paper, 28 x 19 cm / Nharira Cave 2, 2015, chromatic ink pen on paper, 28 x 19 cm).
Cover photo: Portrait of the artist by Rachel Monosov.
by WOW Amsterdam