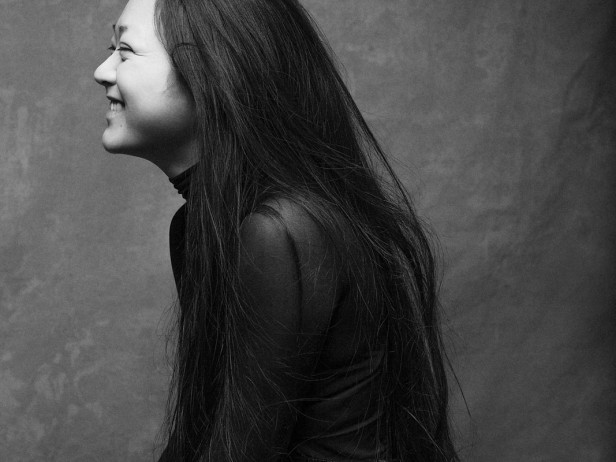 Ting Gong
Ting Gong, fashion designer and artist in residence at WOW Amsterdam since December 2015, recently participated in MBFWA OFF SCHEDULE WOW Fashion Volcano with a stunning performance.
Earlier in December she also showed her new collection at the Rijksmuseum in the context of the Technology in 2030, which is a continuation of the story of her graduation collection from the Gerrit Rietveld Academy.
The connection between her work and technology begins from the material of her creations itself. For her collection indeed Ting used very hi-tech material, which nowadays we can find in our phones, headphones and other electronic devices, and that is normally used to block out some degree of noise, but was never used in fashion before.
WHITE TUNNEL
The idea came to Ting from an experience she had in New York, "I was walking in a bright and small tunnel, there were three white sides, and one side was glass, so all the sunlight was coming in, there nothing to look at, nothing to focus, I heard nothing, and I saw nothing". A strong contrast to the living situation of most of us nowadays, when we are confronted with so many things, and we constantly strive for bigger and better things, missing out on this empty feeling. Complete isolation from vision and sound is what moved Ting toward this high tech material. With her present collection this emptiness and silence is still metaphorical, but who knows what the future holds.
"This story is the starting point, but it gave me a moment that stayed with me forever, as a snowball, it is growing bigger and bigger that I can't help it, I have to share the story, and I've never been so confident in telling a story".
FROM THE CHINESE MOUNTAINS TO THE LOW LANDS
The Chinese mountains were the landscape the surrounded Ting's childhood, a context of strong traditions and nature that is a strong contrast to her current living context, but that also creates a gap for her to further explore her relationship with her traditions from a distance. "I like to have something on both sides, to combine the soft material with a little bit of metal"
After economic studies, she decided to change path and found her way into fashion designing.
SPACE, IMAGES AND LAZINESS
"Space is very important for me, and I'm greedy about it. On the other side, images are many times violent nowadays, that I get used to what keeps confronting me. But I keep practicing the beautiful sensation as when I was little and I could be concentrated on something, and not be bothered by anything else". Now the tempo of the society has changed, and we are constantly questioning humanity, society and its well being and health as an ultimate goal.
Beauty also plays a central role in her designs. "To make beautiful things is easy, you can do a little bit more than the others and make beautiful things. But then the important question remains what is their meaning?"
"I want to have a simple element, like water or air, and you don't need to make anything with it, and it is just beautiful by itself and makes you reflect". Ting's approach to the matter is then to test herself to see how far she can go to do with less, it is a research for minimal but also about laziness, to look for a simple way to express things. Her thoughts seem to be personal and universal at the same time.
MATERIAL, CONCEPT
"I like to challenge skills and material, any detail in the process excites me the most". The material has a strong influence of the technique, with certain material, such as the hi-tech one, it is not possible to use a needle, so Ting had to experiment with different ways of assembling the different parts of her creations. These experimentation go also beyond the standard fashion techniques, Ting is indeed using an ultrasonic welding machine, which has been used in different industries in the past, but for clothing making it is new.
ULTRASONIC
"As a Chinese, somehow English words have many different meanings for me, the associations don't come automatically. So with the word ultrasonic, I just have an image in mind. It does not focus on the body or humans, it is about the crazy vibration of the things".
PROCESS AND LEARNING
Ting seems to integrate her relaxed attitude into her creations. Not only a learning process of different techniques, but also a self discovery. "Now I learned to discover things on my table, everyday you get inspired from your surrounding, by people, that is also the way that I have to follow my own tempo, it comes slow, but then strong."
Ting is the first one to wear her creations. Indeed she does not use mannequins, but directly herself in the development of her designs. "I have an archive of left over fabric, when I see a potential shape, I keep it and know I can reuse it someday. They are like genius pieces that nothing can recreate".
"Usually in my way of working I just stand in front of the mirror, draw on the fabric, then throw it on the flow and start to cut it really roughly. Then I put it on again and move myself, grab the space, I need a lot of emptiness around. Because of this process my work comes without any sketch because I sketch directly on myself, or I have to go the other way around, looking at the 3D shape and then go to 2D. The biggest limit however is that I cannot reach to my back, so many of my clothes don't have one, or it is just made really roughly."
FUTURE
Not only fashion. "After WOW Fashion Volcano and a following fashion show in March, I'm going to focus on making alive clothes, I am looking forward to collaborate with sound, video artist and different people! The beauty of collaboration is that I go out and learn from people. But before I have to apply for an artist visa to be able to continue working in The Netherlands. Can't wait!".
WOW
"There is a lot of space and I'm happy to be here with a bunch of great people. Fun things are going to happen."
See more of Ting's collection on her website.
Portrait photo by Jianmin Huang
Photo Fashion Week by Fabian Calis Photography
by WOW