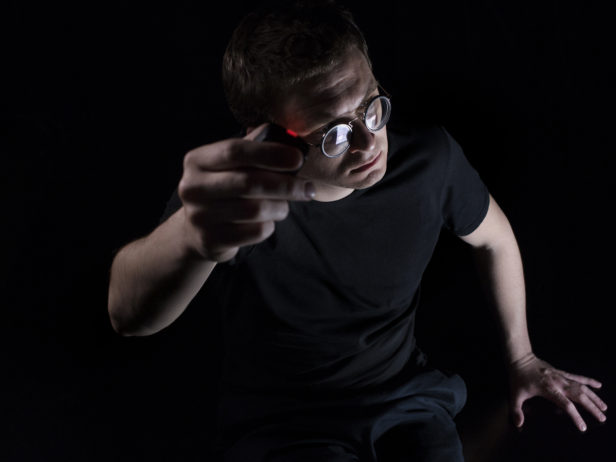 Roman Ermolaev
Everyone here calls him Róman, but it's actually pronounced Román. The filmmaker and photographer made his way to Amsterdam from St. Petersburg a few years ago to attend the Gerrit Rietveld Academy, and has since developed into an awarded visual artist whose work can be recognised by its serious, melancholic undertones. "In my first year at the Rietveld, teachers called me The Joker. No one's laughing now!"
You only just graduated from art school, and you're already a teacher?
Yes! Well, I'm a teaching assistant at the Rietveld Academy pre-course. It's a really nice gig, and great to still be involved with the school and that scene. I actually did the pre-course myself five years ago, that's how my Rietveld career got started. It's a pretty funny story, actually. I studied economics in Russia for four years, which I suppose is just what you do when you finish high school and don't know which direction to go. Then I studied photography and a teacher told me I should go abroad. So I came here, didn't speak any English, didn't do the assignment, I just gave them my portfolio and they liked it. Five years later, I'm teaching the course that got me started. It's not my main focus, but it's a nice side job.
Was art always something that was part of your life, even when you chose to study economics?
Cinema was a big part of my life, but art wasn't. And still isn't, really. The base of my work and education is still cinema. I only had very rudimentary knowledge of art when I started, it was definitely a challenge. There's no playbook, you just keep doing what you're doing. You target your creativity and proof to yourself that you're actually interested, it's something that develops over time.
Do you describe yourself as an artist, or a filmmaker, or a photographer?
I feel like I'm in a transitional period right now. Nobody seems to like putting a label on their practice, but I would actually love to have a label. I really feel the need to define myself, but it's not easy. As soon as I finish a movie, I'm happy and satisfied, and then switch to making an installation that involves a lot of etching techniques. And when I finish that, I'll probably go back to cinema again. It feels unstable, I feel like I need to get out of that undefined feeling and jump into the centre of it all, figure out who or what I am. Putin just won the election, he got 76% of the vote with politics of stability. I would love to have stability [laughs].
But wouldn't you want to be able to explore lots of different mediums as an artist? Is a label or definition really necessary?
I suppose in my case, it is quite important to have a vast assortment of techniques and interests. You can't make a great movie each time, but maybe you can try it in a slightly different medium. I was showing my graduation movie in Amsterdam, and afterwards a lady came up to me who was fairly drunk, but said some nice things about my work. She said 'your movie is like a collection of photographs'. So I suppose my base is really photography, and everything I do comes back to that. Even when I use different techniques, the base is always photography.
Speaking of your graduation project, what inspired you to make Holy Land?
The idea started with ceramics, I wanted to take a Delft Blue vase and delete the image, erase the surface. I actually had this idea during the pre-course already – we used to joke about how funny it would be if we graduated with a pre-course project – and I managed to hold on to it all those years. It's a reflection of ideas, the idea of class, social hierarchy, whilst also paying respect to classic art and symbolism. I'm not critiquing or criticising, I'm just trying to balance experiences and represent them. This black girl has a power position, she's destroying the vase, but at the same time she's being observed closely. The whole idea is a reference to some of my experiences here.
Do you think you needed this position as an outsider, a foreigner looking in, to make this film?
I don't want to make any big name comparisons, but there are a lot of artists who were foreigners in certain countries, and they make for the best critics of those countries. And maybe you don't need to be a foreigner, but just a bit of a melancholic depressive to create work like this [laughs].
It's funny you should mention that, your work is quite heavy and melancholic. It seems to touch on topics people feel uncomfortable about, and puts you in a position where you have to deal with that feeling.
That is funny. In my first year at Rietveld, a lot of teachers accused me of being too light, too funny. I used to make these airy comics, and they called me The Joker. No one's laughing now! [laughs]. I started making heavier work as a response, but I'm quite comfortable in my position these days. Most of my projects deal with more serious subjects now.
What has it been like for you to live at WOW?
WOW as a platform is incredible, it's a great transition from art school to 'real life'. If you're interested in developing your work, people here are more than eager to help. If you come to WOW with the right attitude, every effort you put into your time here will have its rewards.
Are you working on any projects here?
Yes! I have an exhibition in May, an installation made of photo etchings. For one of them I'm hoping to win the Guinness price for biggest photo etching every produced! I'm joking, but it's big, two by one meters, it was nuts to produce. Shout out to Sietse, head of the print workshop at Rietveld, he helped make it happen. And to add another layer of difficulty, the etching is going to be animated. Or maybe animation is not the right word, but it will be like a moving machine.
Lately I've thought a lot about the concepts of a story and narrative. Telling a story with cinema is fairly straightforward, but how do you put narrative into an installation? I'm trying to tell the story of a pianist going on the road and crashing his car; how do you make this story come to live with objects? It's an interesting challenge.
You can visit Roman's installation from May 11 to July 31 at WOW.
Words by Suzanna Knight / Photo by Roman Ermolaev
by WOW Amsterdam
In my first year at Rietveld, a lot of teachers accused me of being too light, too funny. I used to make these airy comics, and they called me The Joker. No one's laughing now!