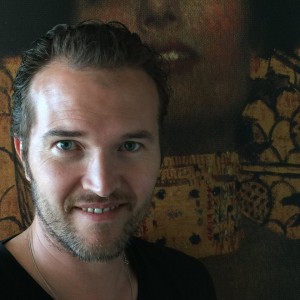 Michael van der Meide
Michael van der Meide, fashion designer from Rotterdam, inspired us during the WOW Fashion Volcano with a fashion show of his new collection No Fear…
BEGINNING AND INSPIRATION
Michael a poet of light and dark started with his first collection in 2004 taking inspiration from the four elements in nature. The first collection was inspired by Air. "I was always fascinated by things that move, fly and transform. On the academy I did research on pilots, the way they dress and their world for a menswear collection. In 2004 I started my label I did not have any clients yet and material was very expensive."
"Reusing the old parachute cloth was a way for me to have loads of material and create huge fluid dresses that moved like silk". Not only this textile gives a fluent and free characteristic to the dresses, it also transmits the experience of jumping out of a plane and the oldest dream of mankind to be able to fly.
After 'Air' he worked with 'Water', 'Earth' and 'Fire' exploring what does water do in nature when it rains, freezes and turns into crystals. After going into nature with his own camera to explore and observe, he started to transmit his impression in textiles and clothes. "I wanted to create something unique, fluid and free, clothes with a story that seem to exist already for a long time, once you put them on they give you a feeling you have them your whole life".
Then he moved towards the idea of seeing nature through a kaleidoscope and the way water and ice act like a mirror in nature. Moving away from this idea because it became a trend Michael now starts to build his own materials in a more 3-D way. To see in his Couture for Fall '2016 coming up end of July '2016.
MATERIAL FEELING
"I usually work and choose the material by it's characteristics, the way it falls and moves. I throw the material on a mannequin and drape, fold or twist it. This is how my designs come to life". Michael works directly 3D, his clothes don't start from a fashion illustration first, but from the sensation and experience of the material. "It's very intuitive."
OFF SCHEDULE FROM THE INTERNATIONAL CALENDAR
Michael follows the philosophy of having a winter collection during winter and summer clothes in summer time, and not the other way around as most of the fashion world. "When you buy clothes in the completely opposite season you have no feelings and emotions for them. Buying a winter jacket when birds die in sweltering heat… it's crazy!" The whole fashion system is not right I think. A small company like mine is able to adjust swiftly. I see that as a big positive thing and what's even more important I feel free! That's the reason I started my label. I hope to free people with my designs as well. So I am very happy by staying small but flexible.
NO FEAR…
The collection showed during Fashion Volcano was his current Ready-to-Wear Winter collection No Fear… which has 50 unique pieces.
"We have a lot of fears nowadays in our society, it has to do with politics, terrorism, aggression, religion, a lot of people fear to really express who they truly are because they can not or don't dare. Others are afraid of death or love. There are a lot of things you can be afraid of in life but we have to let them go otherwise we never can have a happy life. If you fear everything you can't live a free life, because you always think about what could happen".
Usually Michael designs his own textile, but for this collection he used an already existing one with all kinds of mirrored snakes on top of it. "When I saw it I thought it was really in line with what I usually design and with the concept I wanted to transmit".
"Snakes are indeed something that almost everybody fears, and the snake for me is a reference to a famous photograph of the sixties by Richard Avedon. The model really had no fear with a huge python lying on top of her". So this became the metaphor for the collection having no fear with snakes on the body but then printed on the fabric…
STORYTELLING
"My collections always tell a story, like the way I started it in 2004. I write poetry about the feeling, story, atmosphere or emotion belonging to a collection.
The photo's of the collections on the website are like film stills, so if you only look at the images, and you don't have any other information you create a story for yourself. The models are always on the move like myself. This is also an influence from my life, I really like to travel and see different cities, cultures and people. I am interested in what people do and their habits. When I see people I see their story and the world around them, I imagine the way they live in my mind". Storytelling, kaleidoscopic and mirrored digital prints of nature became trending topics in fashion.
"For Couture Fall '2016 which I am working on now I move away from this idea.
Besides the storytelling I love to see people desire, wear and cherish my clothes… Especially for Couture I would love that people wear my clothes forever and later share it with their sons and daughters or donate it to a museum".
WOW
"WOW it's a wonderful place for artists to live". Michael came in contact with WOW when at the end of 2014 Aziz Bekkaoui asked him to take part in the exhibition REFLECT with 9 other young fashion designers that AZIZ curated in WOW. "I did an internship with AZIZ in 1996 just after he won Hyeres. It was great to work and learn with a talented craftsman and designer like him and it was great to work with him again".
Now we saw him again at WOW on January 16th. "I participated to WOW Fashion Volcano with a show, interview and Shop because for me being a designer it is very important to communicate with people the story behind the collection and make a personal connection with people that are interested in my work. People are usually very interested and curious about the person behind the work that's why you have to get out there have NO FEAR… show the real you and be true, proud, confident and enjoy yourself in establishing a relationship with your audience and make them interested in your work".
See more of Michael's work on his website
by WOW