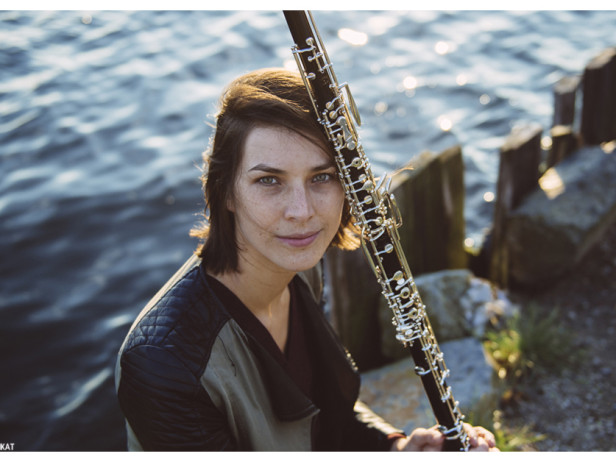 Marlies van Gangelen
This week sees the start of a brand new series of workshops entitled SoundLAB (in collaboration with Muziekgebouw aan 't IJ), in which children from WOW's neighbouring schools get to play their favourite instrument. Artist in Residence Marlies van Gangelen is the workshop leader. Part of experimental Perforator and wildly successful Stargaze, Marlies talks to us briefly about her many projects and interests.
How did your music career start?
''I did a Bachelor's at the Conservatorium of Amsterdam in classical oboe, which is my main instrument. Although I enjoyed all the musical activities outside the course, my time at the conservatory was a bit of a struggle, because I don't really feel like a typical classical musician. After my degree I took a year to find out what I really wanted to do. I found a Master's in Leadership in London, at the Guildhall School for Music and Drama, which focused on the creative process in different contexts, in other words: making interdisciplinary shows, working with communities, composing and improvising. This I found much more interesting.
''London was really revealing for me. Not only I could see the power of music while working with communities in the difficult areas and neighbourhoods, but I also realised that this role suited me, and I became a much more diverse musician as a result.
''At that point in time I was invited to play with Stargaze, based in Berlin, where twelve classically trained musicians open themselves up to different collaborations. We played at the BBC Proms earlier this summer and we just came back from a US tour. Over there we collaborated with a band from Minneapolis, Poliça, and we recorded in Bon Iver's studio, April Base. He liked what we're doing with Stargaze. I can't say too much about it yet, but we're planning another gig in the US soon.
''Besides joining Stargaze, I became a member of the London Improvisers Orchestra and I joined a collaboration by Damon Albarn (well-known from Blur and Gorillaz) called Africa Express. After moving back to the Netherlands I joined the Dutch Kyteman Orchestra. All these non-classical projects influenced me as oboist very much.''
How do you compose your music with Stargaze?
''We work as a band, so we come together in the rehearsal space and create music collaboratively. Everyone can give his or her opinion. It can be time-consuming, since you don't get a sheet of music when you get there, but it certainly gives the group some extra energy. Everyone feels ownership and shares an interest in this kind of music. This process of creating together has a very sparkling result.
''In the classical context, I felt a bit replaceable, like there could be someone else in my place and he or she would probably perform better. On the other hand, with Stargaze, it's all individuals that bring their special personality and musical talent to the group.''
Aside from Stargaze, you also perform with Perforator.
''Perforator is my own band, a duo with oboe and joystick as its main ingredients. I like electronic music a lot and as an oboist I search for ways to extend the possibilities of the oboe by using electronic effects. After living in London I moved back to the Netherlands and that's where I met electronic musician Akim Moiseenkov. Akim created this really cool, unique musical voice mainly by making use of a programmed joystick and we started to work together. With moving sensors, as devices attached to our bodies, we manipulate our soundscapes by our movements. With choreography we try to add an extra dimension to our performances.
''We are constantly searching for ways to open up and develop our music further, for example by collaborating with composers and choreographers. Last month we invited fellow Artist in Residence composer Kaveh Vares to join us for two rehearsals. Just to hear his opinion and listen to his advice. By having meaningful conversations with people whose work I admire, I start to understand Perforators' idiom better and better. Last June we had our debut at Holland Festival and since then, we have been invited for more concerts.''
Back to working with communities: how does the social aspect come back into these projects?
''Now the focus has shifted a bit to my own artistic development, but the social aspect is still very important and work in community art projects is definitely one of my passions. It opens up my view on society every time. There is a danger in always being on tour, surrounded by cool artists. That is a small world, not a faithful representation of society.
''Last year I co-led a community arts project in this neighbourhood in Amsterdam West. Together with workshop leader Maite van der Marel I worked with the teenagers of Mundus College. Some of these students have quite a rough background and we tried to respond to them in a caring, thoughtful way. To encourage their personal development and simultaneously to keep an eye on the creative process. Trying to be connected to their experiential world. This constant dialogue during community art projects always offers new insights. The students of Mundus College did an unbelievably good job, by the way. They presented their work at Podium Mozaïek and touched me with their courage.''
With Perforator, you explore the limits of your instrument. That seems to come back quite often in your practice.
''I think for every artist it is all about exploring, and I try to go beyond oboe's classical tradition. Personally, I don't see the value of repeating songs I know, because I lose my curiosity. I have this eagerness to go deeper and deeper. My creative process starts within the framework of the instruments I'm going to use, for example oboe and electronics. This is quite defined, but within these boundaries it is fully open. Rehearsal time is like a playground: we discover new exciting sounds by bumping into them accidently most of the time.
''Most songs by Perforator have a fixed structure and within these structures we improvise. For example, we have a piece called Nakamba, which works with a joystick program triggering a sound pattern every time I hit a note. This concept is the piece, and live on stage we find different ways to enjoy it. Spatially too: I wear a movement sensor on my arm, and when I bend down the music slows down.''
Plans for the future?
''I would like to become a better improviser. Sometime I feel stuck in a certain vocabulary, so I'm constantly listening to music and trying to catch things that are interesting and put them in my database. I also try to translate non-oboe sounds to oboe sounds in order to expand my expression tools."
Sounds like learning a new language…
''It is a creative process. I hear a specific sound quality from another instrument and make it my own on the oboe. It's more like creating a new language, a musical one, which is also a fantasy language that constantly grows, like a colour pallet does.''
Does living in a place like WOW benefit your creative process?
''I enjoy living here, and what I like the most is definitely being surrounded by other artists, and the unplanned conversations in the kitchen, which are often very inspiring. It's like food for my mind.
''At WOW I met people like Bram Stadhouders, with whom I had already performed some years ago, but then lost touch. During our residency at WOW we gave a concert in the Vertical Gallery. It was Bram's idea to put speakers on every level of the stairwell. He triggered a MIDI organ with his guitar. I added layers onto it with my oboe. While Bram was sitting in a fixed spot, I walked around, reacting to his sounds. It had a psychedelic quality, especially as the sounds travel in space. I am grateful to WOW for organising such happenings with a good eye for detail. The lights, for instance, were amazing. It was really inspiring to work with such a creative mind like Bram and we had the luxury of living in the same building.''
Check out Perforator and Stargaze online and watch videos of Perforator with Nils Frahm here and Stargaze here.
For the performance with neighborhood kids at 19 February, please check our website soon for more information or send us an email (event@wow-amsterdam.nl) if you would like to attend the event. 
by WOW