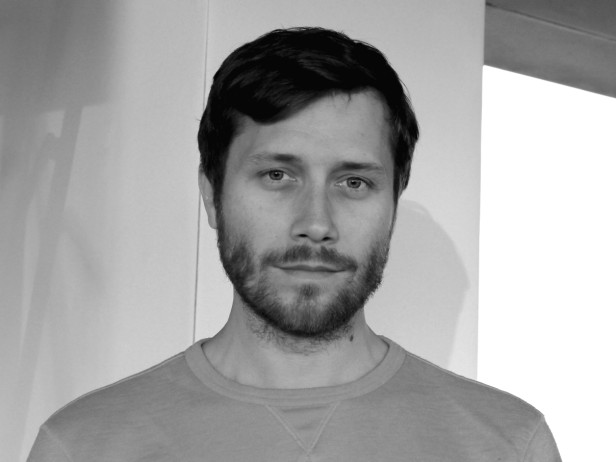 Marcin Kaminski
Marcin Kaminski is among the first residents in WOW. Graphic designer, performance artist but open also to other media and disciplines, he integrates all his different interests and his backgrounds in acting and sociology in his multidisciplinary works. We start our interview just in front of one of them which is permanently shown in WOW, the sign "WOW |" in the Green Gallery.
LETTERS, TITLE, MEANING
"I really like to work with letters, titles, to think about the meaning of words in a public space" he says while looking at it. He wanted to contribute with his work to the visual identity of WOW, which at the time was still a starting institution. A developing context, that is also underlined by the blinking neon cursor next to the word WOW. It was the beginning of a new story.
Coming from Warsaw, he started his experience in Amsterdam here in WOW, that he describes as "an example of how in the cultural field we can make exchanges. Between all the different residents, we are under the influence of each other. It is an exchange of inspirations, ideas about art, music and even different cooking traditions from all the different countries that are represented here. It gives a good energy to start in a new city, to have a sort of a structure and not to be lost."
NEW IDENTITIES
A similar energy that he puts into his creation both as a visual artist and as a graphic designer. He sees his work as graphic designer as a way to create new identity for small and starting business, it is his way to help people to start something new and to define their ideas visually and in this way to underline the specificity of their concept. "As a graphic designer" he says "your role is to help them to create a new identity. In this I'm also helped by my background in sociology, where I specialized in therapy. It is important to listen and to help the client to define themselves and their way to start. I like more the small clients with whom I can have a personal contact."
Now in Amsterdam he is integrating all his previous experience in his studies at the Gerrit Rietveld Academie. Exploring different disciplines and mixing them into his performances.
GRAPHIC DESIGN INTO PERFORMANCE
Right at the beginning of his program at the Gerrit Rietveld Academie he participated in the exhibition Outsourcing performance at the Showroom MAMA gallery in Rotterdam, where he created a performance with Leonie Kuipers. His focus was on opposing two objects inside a determined frame. "I was more into how the camera works, also due to my previous experience working in TV". While Leonie, coming from a dance background was more into choreography and the place of the body in the space. It was a perfect exchange of knowledge.
WORK, WORK, WORK
Words and graphic design continued and still continue to enter his works. Later on in the academic year he created the performance WORK based on the work of the Polish Philosopher Stanisłąw Brzozowski, exploring the meaning and significance of work. "It was particularly significant for me because in the beginning here in Amsterdam I was faced with the situation that I had to find a job and I did this performance one week after I found one" he explains "Work is also a struggle, you need to react to dynamic circumstance. In this performance I put the fabric on this very lame construction, making an effort. The structure was on purpose not stable, to make it more difficult. The performance is the construction of the title: WORK."
"I'm very inspired by this simple kind of approach, where the word is strong enough".
by WOW
"Graphic Design is not only doing shape, it is more saying the story about someone using letters."