Laura Dubourjal
–CAN YOU TELL US ABOUT YOUR PRACTICE – WHAT ARE YOU WORKING ON AT THE MOMENT?
I have a multidisciplinary practice, with which I develop projects using diverse media such as fashion, video, performance or textile. I often use auto-fictional narratives as a layout to create interactive audio-visual and spatial installations.
My current project called Prisoner of our own illusion is built around a character called Laï. Whilst being stuck at home, and forced to deal with the many voices inside her head, she is confronted with her anxieties and unstable perceptions of subjectivity, reality and identity. Her anxiety is personified in a series of characters I am presenting in photographs, different short videos and a sound-performance. The projects allows me to develop my reflection on the female inner monologue, and its translatable political value as well as involving viewers in a dialogue on the transgressive nature of the identificational protocols.
Children often reproduce their parents behaviours, and develop their sense of self as a reaction to the environment in which they grow up in. I grew up in a theatre, in a family of actors, six to be exact ( both my parents, my grand-parents, my grandmother's twin sister and her late husband), with so many personas brought to life around me. This plurality of characters and metamorphoses has influenced my practice and shaped the main questions I like to play with in my projects, namely : Where is the border between person and character? What creates this frontier? Am I not performing myself this instant?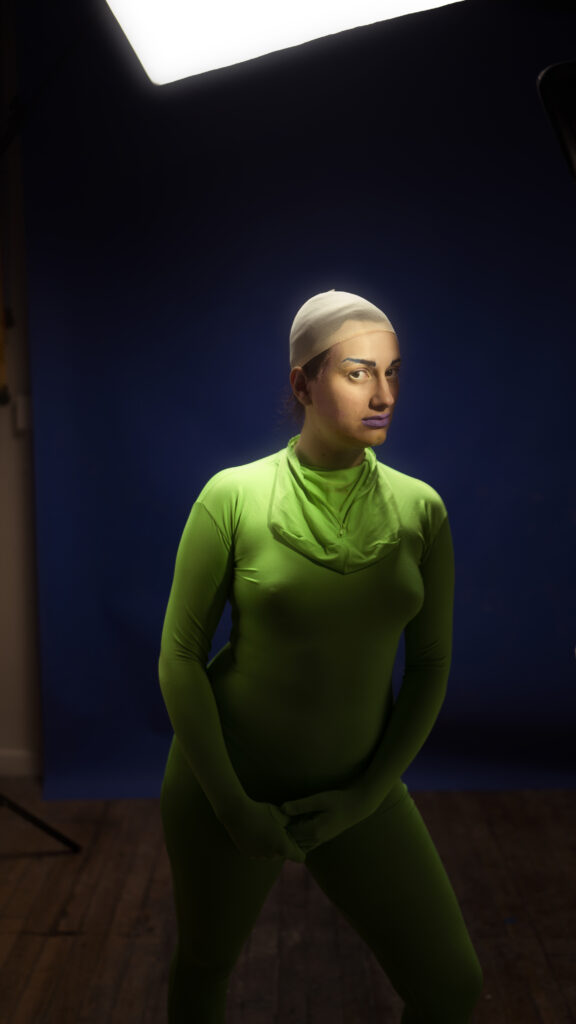 –HOW DID YOUR PRACTICE CHANGE IN RELATION TO THE PRECARIOUS CULTURAL CIRCUMSTANCES DURING PANDEMIC?
 
Being stuck at home during the pandemic is what lead me to dive into the project I previously mentioned. It forced me to deal with my own anxiety, and to read and write about it intensely. I have been able to experiment with different techniques and develop some tools to learn to live with my anxiety. One of them is through the performance of characters. I have been transforming my demons into playful roles and exploring different sides of my artistic practice with them. By performing those characters, by embodying them, it becomes possible to see the absurdity in them. To see them as caricatures of our fears, anxieties, most of them not even our own, but other people's voices that we have internalised. It is an exercise in becoming one's own worst enemy, speaking badly of ourselves, offending the ego within, to liberate ourselves from the weight those words have when they remain unspoken.
The lack of access to physical cultural events has sort of pushed me inwards, in a moment of introspection and creative experimentation. But I am more than ready to take my newly acquired methods outside of my flat and to play with them in different venues!
–WHAT IS YOUR TAKE ON AMSTERDAM ART SCENE? DID WOW AMSTERDAM HELP YOU TO FACILITATE NEW CONNECTIONS?
Living in Wow Amsterdam has opened a lot of doors for me. It has allowed me to show my work in different events, such as Kunst Rai (2019) and collaborate with new artists and curators alike. Living in the proximity of such a diversity of artists and creatives has been really great, especially in these Covid times. We've really been there for each other, and been supporting everyone's practices. It's really exciting to get to meet people with different artistic practices and to discuss each other's projects.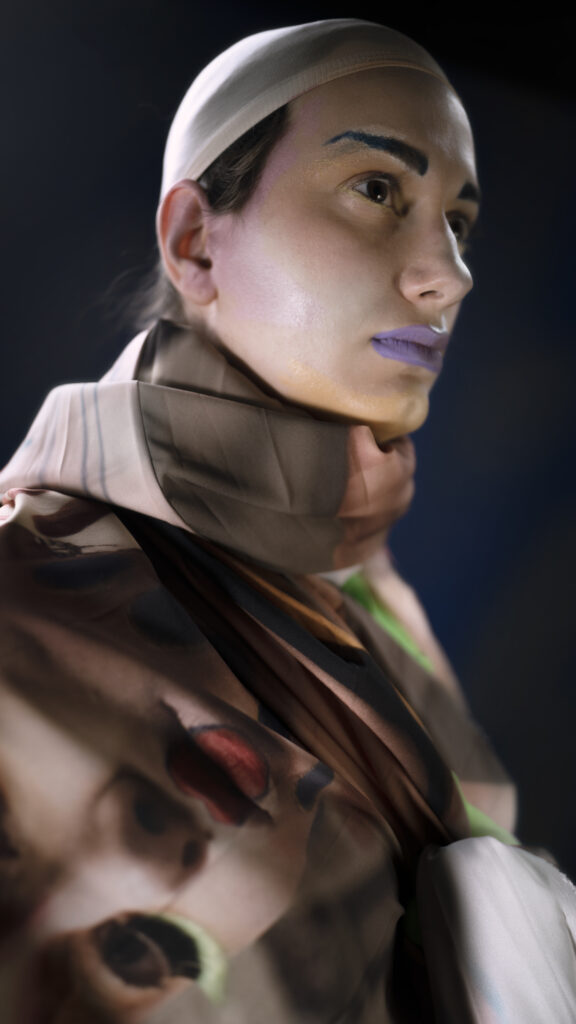 –WHAT KIND OF ALTERNATIVE MODELS OF NETWORKING DID YOU OBSERVE IN THE ARTISTIC SETTINGS DURING PANDEMIC?
It's been difficult for everyone in the artistic field these past two years. As such, I think we've developed resistance and a sense of community together as best we could. I have the feeling that a lot of group initiatives have emerged recently. None of us can do our practices alone, totally isolated, and the forced distances that we've been living with have somehow made us crave for collaboration and communal ways of making and living.
–PLEASE NAME FIVE ESSENTIAL ASPECTS NECESSARY FOR YOU TO KEEP YOUR PRACTICE SUSTAINABLE?
I would say that the absolutely essential aspects I need are time, space, community, solidarity and fun. It takes time to develop and produce works of art, to research, to submit grant and residency applications, and to find moments to process it all.
Having a working space is another major point. There aren't enough affordable artist studios available in Amsterdam, and working from home can make it really difficult to separate the working time from the free time. I would say that the next two notions go together, being part of a community of artists and practicing care and solidarity amongst ourselves is absolutely essential to any type of practice. Luckily, being part of the WOW residency brings me close to other talented artists and friends. And lastly, it's essential to remember to have fun in the making. Not to take everything too seriously, and to look at every set back as an opportunity to find alternative playful solutions.
–WHAT IS YOUR STRATEGY TO RECHARGE?
I run and practice yoga regularly which help me find some strength and balance in my body. But I would say that I find myself most recharged and galvanised after I've turned myself into a new character. The process of transformation, the makeup, the wig, the outfit give me an almost out-of-body experience and allow me to let go of any daily worries and struggles. It always surprises me how much a change in our physical appearance can influence not only our posture and conscience of our bodies, but also our moods and personalities. It's a practice that reminds me we are so much more diverse than we let ourselves believe, and that there is always so much to discover and experience. We are an endless well of possibilities. As a maker, that's an incredibly valuable notion to remember.
–IF YOU WOULD BE REINCARNATED AS SOME OTHER PLANT OR ANIMAL WHAT WOULD IT BE?
 During my studies at the Gerrit Rietveld Academie, I designed a book in which I invented all sorts of hybrid species of animals and landscapes. One of them is a mix between a sea horse and a fly, of which I have a tattoo on my arm. It combines my fascination with sea creatures, and my dream super power: to fly! I would absolutely love to have the ability to roam between the heights of the sky and the depths of the underwater worlds.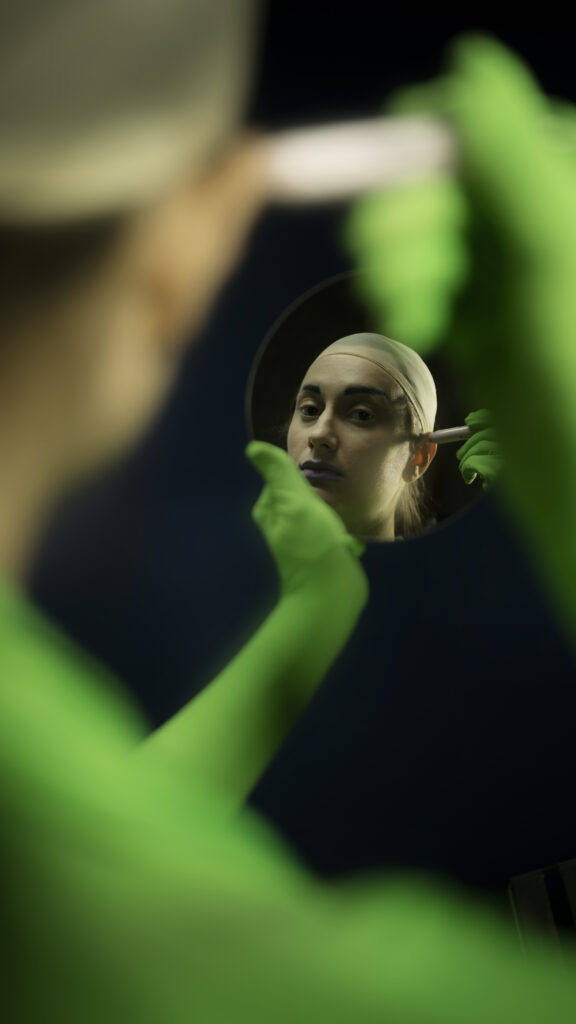 Photos by Roman Ermolaev
by WOW