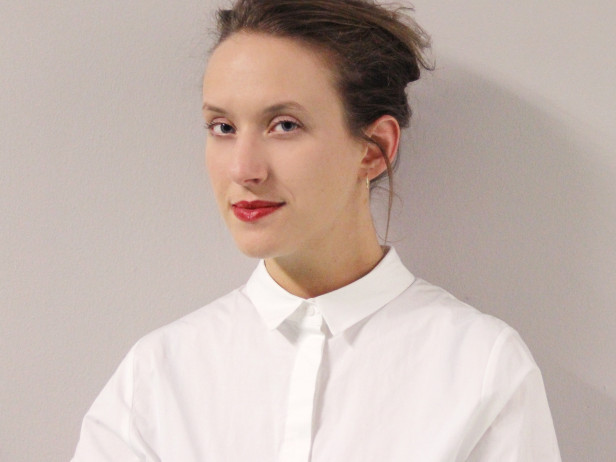 Julia Sokolnicka
Polish emerging film director Julia Sokolnicka came to Amsterdam to attend the Master of Film at the Nederlandse Filmacademie and found in WOW the perfect combination with her studies.
In front of a cup of tea Julia tells me it's not the first time that she lives in an art community. Her previous experience in this kind of environment was in Gdańsk Shipyard, where she frequently visited some friends. "It gave me an enormous benefit of collaboration, sharing of information, archive, interests. I would always come back with a head full of ideas, and I would always bring something".
ARTIST COMMUNITIES
When she came to Amsterdam she was looking for this kind of experience and she found a similar vibe in WOW. "It is a bit different to the community in Gdańsk, where it was self-organised and less institutionalised, and since we were in Poland and since everybody was broke anyway, we were freer to collaborate, and did not have much to lose. So if a job came it was done collectively". Even if in a completely different context she found in WOW a similar sense of collaboration and sharing. "Here you have a common space, meet people and ask for their opinion, and when you have artists around you, you know that you are talking to someone who understands, and even if they are from a different discipline it is really good to share". And it is not only about sharing information and knowledge, but also about supporting each other. "We share not only the same interest, but also the same problems. It is helpful to be around people who understand the sacrifice, the lifestyle and the dynamics of it, because they can give you advice, and you care about each other." This combination of being a student and in a residence is also helpful to focus. "I came here to make art, and this obliges me to work. These two years in my life it is the time when I'm really focusing on what I want to do and where do I want to go from where I am now". Also her room is flexible and adapts to her work.
BEGINNING
After studying philosophy, she struggled to get into film schools in Poland, "I wasn't thinking and I wasn't doing the film that they wanted", she explains. "At that time in Poland, if you wanted to make a documentary you needed to show an interesting person, and follow him or her. And this was not the way in which I was thinking about film making. I was thinking about images and form, and what does the film do to you, also visually". After some time working as a journalist, she found her way at the Wajda School, a film school founded by Andrzej Wajda and Wojciech Marczewski in 2001. "They started courses for young film makers, that were not connected to the film scene and it went really to the core of film making".
THINK
However during film school the risk is to start being obsessed with skills, and "you start thinking that you cannot do anything without two millions euro, and if you are twenty-five and in film school, you should not think this way". "That is why I started doing documentary, I just wanted to make film and did not think about money or other things". This led her to a very stressful period, but also to the realisation that there is more than skills. "If you don't lie down on your sofa, watch a movie, go to a party, meet someone interesting, go on vacation or to a gallery, read, you are never confronted with something new and you don't learn". The script doesn't come out from the need of writing another funding application, but from ideas that come back and are constantly in your thoughts. "If you want to be an artist who works with film as a medium you have to sit down and think, and also be bold and dare to do things and experiment and also fail. You don't need expensive equipment, you can film something with your smartphone, then look back at it and be inspired and think how it could be done with a proper camera. Then you really work, when you conceptualise things, and think about what you want to say with your film".
MORE THAN SKILLS
However film making is more than skills and thinking, it takes also a lot of planning, flexibility, communication and time to find founding. "Especially with film directing you need to be very precise and communicate well with people. When you start you need to ask people to do something for you for free, and you need to be very smart about it and be three steps ahead of people. And before you have a manager and a producer, sometime you need to do everything by yourself, and you learn by doing different things". A variety that is also reflected in the many projects she worked on before coming to Amsterdam. When Julia was still studying philosophy she worked as a costume designer for commercials, then she made short documentaries for theatres and cultural institutions, and in the last five years she started collaborating with a Polish record label from Warsaw, Lado ABC.
SIDE ROADS
Julia just finished a documentary, Side Roads, about people driving in Poland during winter, and the landscape and architecture of these roads. Her intention was to capture the effect of the economic development of the past 20 years both on the people she rides with and on the landscape. "I try to focus on people who are not the young European style, so most of the people I talk to are older so they witnessed the change, but they are also regular people. They talk about their work, and how they perceive life. I share the space with these people in their car, and listen to them talking, but at the same time I was free to look outside the window and look at the ugly but at the same time absurd, funny and rough Polish landscape". She juxtaposes the intimate portraits of the drivers with the peculiar architecture. At the same time the film captures the Slavic character of Poland, the sadness of being on the road, and complaining but at the same time to be happy and positive about your life. Julia wanted to capture something that is rapidly changing in Poland, and for three years she had many adventures hitchhiking around Poland in winter with a cinematographer, Mateusz Wołoczko. And now she will present the film during a film festival in Los Angeles next year.
NOW
"It is super exciting because the film lives with you", after Side Roads she is starting a new project, "a new child, I already know it will be with me for 3 or 4 years at least, and I'm really putting my whole heart into it. It is the results of experiences, notes that I took, dialogues that I overheard". Using the possibilities given to her by her Master, but also her interest in learning new things, she is now focusing on script writing and fiction. Her main interest for her new project is the moment in which we demystify reality or someone discovers that things are not the way they thought. "I'm focusing on how you create yourself, and question if there is any reality at all if you can design it". It won't be classical storytelling anymore, but more of a philosophical riddle using actors. "There are different kind of realities and each person is a universe".
The images in the gallery are stills from two of Julia's music video for Lado ABC "Ręce zmęczone i pot na czole" by the band Baaba and "SPOTKAM CIEBIE" by Baaba and Gaba Kulka as well as one still from the teaser of her new documentary Sideroads

Take a look at some of Julia's work on her website.
by WOW
"It is super exciting because the film lives with you"