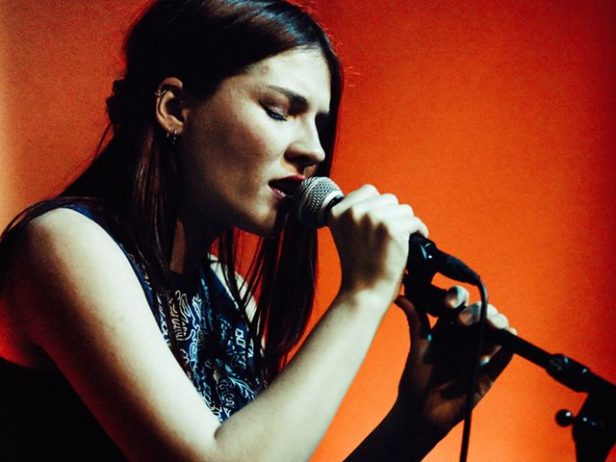 Josephine van Schaik
Bos en Lommer isn't quite like the woods and forests where musician and artist Josephine van Schaik finds most of her inspiration, but her little studio at WOW feels like a quiet retreat from the busy city streets. It's cosy, warm, and colourful: exactly the kind of environment you'd think might inspire the mysterious, atmospheric songs she writes. Plants hang from wooden beams, an eccentric tapestry graces the wall, and a tea kettle announces the coming conversation.
Josephine is part of The Mysterons, and has recently revived her own project Odile after a short hiatus. While a winter storm is building up outside, Josephine talks about her two bands, the right mindset for song writing, and making it in the tiny Dutch music industry.
You joined WOW as an Artist in Residence a few months ago, after finishing your studies at the Conservatorium van Amsterdam, where you also formed The Mysterons.
What was that like?
We got together when we had to form a band for school. The original plan was to make 60's Spaghetti Western music, but that didn't even make it past the first rehearsal. What we do now? I'm not entirely sure! It's a fun mix of everything. Psychedelic, 60's, a bit trippy. I get a lot of energy from playing with The Mysterons. The music is more energetic than the music I write for Odile, so when you have a gig you get a lot of energy from the audience, and your bandmates as well. It's a less heavy way of making music. We're writing a new album now, and hope to release a new single next spring.
Is Odile a heavier project?
Absolutely. The process of writing and recording that album was very heavy and confrontational. It's just me, recording for days on end, playing the same piece over and over and over again but it's just not right every time, and it's never quite right. There's no one there who can smack you in the head and say 'excuse me, you've been doing the same thing for two hours, time to take a break,' or 'actually, what you're doing is perfect and good enough.'
Odile is a project where I have to give a lot of myself, which is fine, but you do need the right kind of energy to do that.
Are you finding that energy here, at WOW?
In a way, yes! I had a crazy year when the Odile album was released. Graduating, performing, finding a job, finding a new place to live, playing with The Mysterons, doing artwork for other bands. It was way too much. But being able to settle here, have my own space, I can feel the urge to write new songs again. It's nice to sit here and grab my guitar and write because I want to, not because I have to. You need that particular gut feeling to write personal songs, you have to be in the right space, both mentally and physically.
Let's talk about the songs you write. Listening to the Odile album is like listening to little snippets, short scenes from a story. How do you find inspiration for those stories?  
Nature. It's full of the strangest, most fascinating stories. Just look at the animal kingdom, or the insect or plant world. There are so many bizarre processes and occurrences, it's an infinite treasure trove of inspiration. I recently wrote a song about plant cuttings. Because how weird is it that you can basically cut a limb off a plant, and both the plant and the severed limb keep growing? Crazy! At least, to us humans it sounds crazy. But it's normal, it's nature.
Those stories are accompanied by a pretty unique sound. It is hard to find the right audience for that kind of music as a young artist?
It's a mix of acid folk and freak folk, a bit psychedelic, dreamy, imaginative, strange. So yes, it's hard to find a large audience for those songs. I definitely didn't do enough to get all the attention possible for Odile, but still. In terms of publicity, there's 3 voor 12, a few local radio stations, a few blogs, Noorderslag and the Popronde, and that's it. That's your entire alternative music industry. And there's very little variety. It might sound snobby, but I sometimes feel like the majority of the Dutch audience only wants to hear things they already know. It sounds so strange to me when someone says 'oh you guys use such unconventional time signatures.' How can a time signature be conventional or 'normal'? When did someone suddenly decide we can only play in three-four time or four-four time? It's like time signature discrimination! All jokes aside though, I think as an artist you have the responsibility to surprise your audience and introduce them to something new. There are so many great bands in this country, but you hardly ever get to hear them.
Maybe events like WOW's All Tomorrow's Parties can help get people in touch with these bands?
Definitely! I had a great time organising that event. It allowed me to work together with other people at WOW and get to know everyone, and also to give bands I love a chance to do their thing. The bands were a mix of everything. We started with Suikerbeat, a bit experimental and raw, then went on to San Dollar, more danceable music. We ended the night with Maple, which had people crowd surfing, forming a mosh pit, even dangling from the plant hangers. All signs of a successful night!
What else do you want to do with these two years at WOW?
I want to make a new Odile album, for sure! Something a bit more experimental. And organise another All Tomorrow's Parties. And make more album artwork for other bands; basically everything to make sure I get to make a living doing the things I love.
Words by Suzanna Knight
by WOW Amsterdam
Sometimes I feel like the majority of the Dutch audience only wants to hear things they already know.