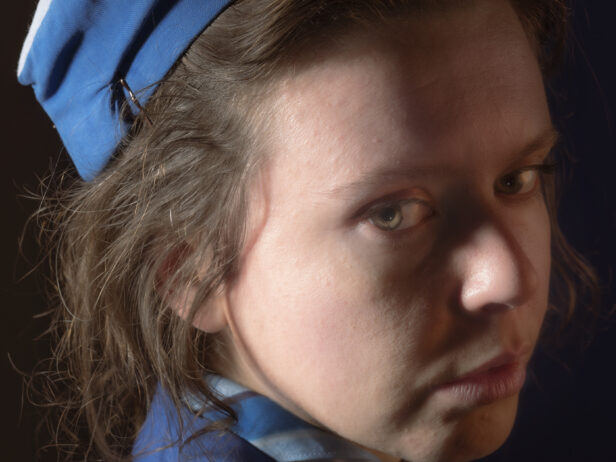 Interview with Kitty Maria van Ekeren
Can you tell us about your practice – what are you working on at the moment?
My practice relates to performance as a theme and practice. So performance based works in which I invite myself into companies to perform non-services like storytelling, or deconstructing the figure of the female service worker in an ongoing collaboration as two unemployed air hostess.
I'm currently preparing an exhibition in Museum van Bommel van Dam that reflects on withdrawing from labor systems in subtle ways of performing dissent, and a feminized perspective on utopian post-labour thinking.
How did your practice change in relation to the precarious cultural circumstances during pandemic?
The pandemic has been a moment of radical new experiences; like the experience of getting payed on a monthly basis (tozo), the experience of loneliness and primal necessity of human dialogue. I've noticed that the general precarity of having a cultural practise is only worth it because of the social sphere, the interactions and kinetic energy between people and their alien objects, without it it is just precarity. In the end, the rollercoaster of the pandemic has been an incredibly dense moment of extremely bad and good experiences that accelerated growth, much bigger and quicker then during normal conditions. I know much better what my limits are, what I want from the work and on which terms I will do it.
What is your take on Amsterdam art scene?Did WOW Amsterdam help you to facilitate new connections?
The Amsterdam art scene is fascinating but unfortunately it's becoming increasingly more hard for people in the cultural sector to live and work here due to the housing prices. Projects like WOW are important places where artists can still live and work. There is also a lot of good energy and potentiality living in a building with creatives.
What kind of alternative models of networking did you observe in the artistic settings during pandemic?
I feel like e-mail had a revival next to zoom of course.
Please name five essential aspects necessary for you to keep your practice sustainable?
A social context, with dialogues, and kinetic energy between people, having housing, and working only with people I trust.
What is your strategy to recharge?
Therapy for the gut and mind and buying a theremin.
If you would be reincarnated as some other plant or animal what would it be?
Definitely a type of gymnosperm tree, maybe a Lawsons Cypress.
Photos by Roman Ermolaev
by WOW