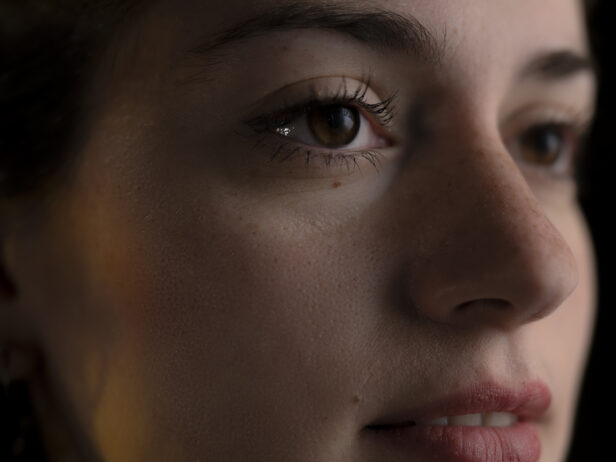 ELIA KALOGIANNI
Elia Kalogianni (1995) was born and raised in Athens. She studied at the School of Fine Arts in Thessaloniki and continued her audiovisual studies at the Gerrit Rietveld Academy in Amsterdam, from where she graduated in 2019. In 2017, she attended courses in analog film and performance at Cooper Union College in New York. She works as a filmmaker and visual artist. Elia has participated in exhibitions at the Stedelijk Museum, Eye Film Museum and the International Theater in Amsterdam, among others. Her short film Phélia (2020) premiered at the 49th International Film Festival Rotterdam (IFFR), was a finalist for the Hellenic Film Academy Awards (category: best student short film) and has been awarded and screened in many international festivals. Soldier 365 (2019), her first experimental short film, received a Special Mention at the Eye on Art Research Lab organized by the Eye Film Museum in Amsterdam and premiered at the Drama International Short Film Festival. She is currently working on Mammalia, a short experimental film supported by the Greek Ministry of Culture, the Greek Film Centre and the Hellenic Broadcasting Corporation. She has also collaborated on projects for the exhibition center Looiersgracht 60 (Netherlands), the Amsterdam Conservatory (CvA) and Onassis Stegi. Elia also works as exhibition floormanager at the Eye Film Museum in Amsterdam and as a coordinator for the environmental program Echoes, part of the Aegean Film Festival. She is a fellow of LAPS: Research Institute for Art and Public Space (2021, Netherlands) and has been awarded the Stavros Niarchos Foundation Artist Fellowship by ARTWORKS (2022).
-Can you tell us about your practice – what are you working on at the moment?
My practice combines films, installations and video essays. I like to give value to what usually remains invisible and, adopting a female gaze approach, I aim to raise questions about loneliness, memories, contact, identity, surveillance and the distinction between reality and fantasy.
I enjoy working in many different projects at the same time. That being said, some of the projects that keeps me busy at the moment are: a short film under the title 'Mammalia' (which is about the power dynamics among two women confined in a house with domesticated animals), a medium length documentary called 'Houseman' (which is a portrait about Rom Christos Karakostas, a 70 years old zurna performer from Flambouro village in Serres (Greece) who constitutes one of the cases where a whole music culture is intertwined with his name)' – which I have been working for 4 years already, and a video essay under the name 'And There Was Evening, and There Was Morning', (a visual story about the mortality of memories, buildings and landscapes in the Nafplio region of Greece though the eyes of the actress Maria Filini who was born and raised there).
I am also collaborating as a duo with another WOW resident, my dear friend and composer Danai Belosinof, in a series of 5 non-anthropocentric audiovisual narratives. 'Lady Roach & other such stories' is a series of 5 non-anthropocentric au- diovisual stories. It is a dive into an unknown world of things and creatures using music, video, animation & a live storytelling performance.
-From the perspective of now, what can you say about the pandemic and its effect on your art practice?
The pandemic started a year after my graduation at the Rietveld Academie. Honestly, I cannot know what sort of opportunities I missed because of this fact, I am trying to focus on the beneficial part of this situation. We've all been through a lot of challenging events throughout those uncertain times but looking back, I can say that it was an overall creative period for me. It was sometimes emotionally and psychologically challenging to stay productive but it was also a way to keep myself busy and motivated. Also, many events were happening online so the bigger down part for me was the lack of attendance in physical festivals and exhibitions. My art practice was effected in many different ways. I got more focused on the writing and theoretical part. Practically speaking, I had more free time to work on my scripts and experiment with new ideas. Two of the above mentioned projects were developed during covid. Also I had the opportunity to film some empty public places that I would never have the chance to depict them in the same way. Surprisingly, I was also able to start some new collaborations. It felt reliving to join forces and start working together with others under these circumstances.
-Did this years of Covid readjust your way of social communication?
Definitely, I am still haunted by those awkward online birthday parties during the pandemic and I am still in the process of communication readjustment. My motivation to go out is much different, sometimes I am forcing myself to meet friends in a setting outside home. I also became more aware by the number of people that are around me in an event.
-What kind of alternative models of networking did you observe in the artistic settings during the pandemic and do you still practice them?
I noticed that a lot of online events, openings and gatherings started happening during the pandemic. I joined some of them and I must say they were better than nothing. Social media were on fire too as we are (even) more depended on our phones. Online meetings can be very helpful too and I still use them although I prefer meeting people and networking in person.
-What is your take on the Amsterdam art scene? Did WOW Amsterdam help you to facilitate new connections?
I believe that the Amsterdam art scene is quite vivid and vibrant due to the fact that many international artists bring their personal input in the city. There are also a lot of art museums, events and galleries that help to keep the art scene active. After the pandemic, I am trying to rediscover all those places and this is quite exciting.
What I miss sometimes is a more involved sociopolitical aspect as well as more alternative (or 'underground' if you may call it) initiatives. WOW definitely shapes an interesting community of young (or not so young anymore) artists and this definitely facilitates new connections between the residents. As I mentioned earlier, I am also collaborating with other residents and I always like to exchange feedback on projects with them. Maybe it would be a good idea for WOW to form more common events so all, (especially the new members of the residency), neighbours/colleagues would have the opportunity to get to know each other.
-Due to the precarious standards of living, what can we expect from an artist (as a social group) in the future?
It's becoming harder and harder every year to make a living as an artist. Rents are high and it's very difficult to get a house contract in the first place. I believe that many artists will move to other countries trying to find their luck elsewhere or they will quit making art in an attempt to find a stable, more secure job. This thought it's very scary to me but also quite real.
-How do you find a balance (if) in between part-time jobs and your own art practice?
I consider myself lucky because all of my part-time jobs are somehow related to my own practice and interests. Besides my own projects, I do a lot of filming jobs and I also work at the EYE Film Museum (Amsterdam). I am always trying to divide my time equally(most of the times unsuccessfully) between work, my own art practice and personal life. I work as a freelancer and this can be tricky in some periods of the year because you end up having either too many jobs/projects happening, which all require so much time and energy, or none where you have to face your own insecurities. After a full day at work though, you might not feel like working on your own stuff and be creative afterwards.
-As an expat  living in Amsterdam, do you still carry the socio-political urges of your homeland in your art practice? If so, please tell us?
I was born in Athens, a city with a strong cultural scene, both traditional and underground. When I decided to study in Amsterdam, I brought those influences with me, trying to embody new elements in my art practice. I am still strongly connected with Greece and that's one of the main reasons I keep going back to my homeland in order to film many of my projects or at least draw inspiration from there and embody historical elements in my art practice.
A good example is my video essay 'Prickly Pears' which is referring to the history of Xenia Hotels, one of the most luxurious hotel chains back in the days which were used during the dictatorship (junta) in Greece. This project reflects on how those hotels took the path of abandonment due to socio-political issues.
-How do you see your personal development in the upcoming years? Do you have a plan or do you go by instincts?
To be fair, I never enjoy following neither a strict schedule or plans and I am very bad in predictions so I am trying to go by instincts. For now, I am trying to explore how it is to live and be artistically active in between the Netherlands and Greece.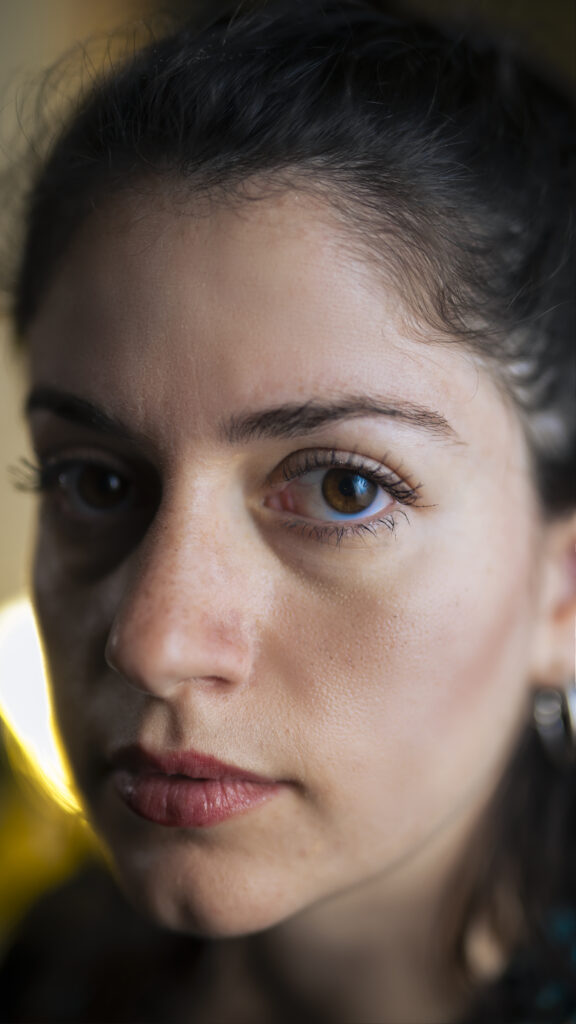 -Please name some essential aspects necessary for you to keep your practice sustainable?
In the first place, one of the reasons I like to work with moving images is collectivity. My audiovisual practice often involve a crew and require long term commitments that's why it's essential to me to work with close collaborators who I trust their opinion and taste. The second most important element is to be able to receive fundings in order to pay my collaborators and to be able to complete my ideas the way I want it. Audiovisual works can be very expensive so I need financial sources in order to keep it sustainable.
-What is your strategy to recharge?
I would like to reply by exercising but this is not the case unfortunately. (This is definitely one of my resolutions for 2023 though! Haha). I like travelling so when I have enough time and a bit of extra money, I like to go to new destinations in order to recharge. Some other times I am just enjoying staying at home and spending quality time with my beloved ones. I also enjoy cooking a nice meal in order to take a relaxing break during the day.
-If you would be reincarnated as some other plant or animal what would it be?
Haha, I've never thought about it. I don't know what I would be but for sure I would enjoy to be reincarnated as a feline, any of the 37 cat species (just googled the number)! By the way, have you seen the documentary 'Velvet Queen' (2021, dir.Vincent Munier & Marie Amiguet)? Maybe I wanna be like this leopard who would live freely in nature and enjoy escapism.
Photos by Roman Ermolaev
by WOW