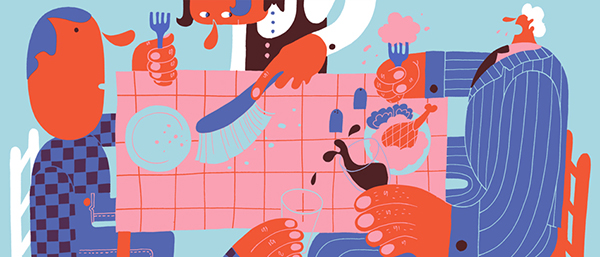 Eline van Dam (aka Zeloot)
One of the many talented artists featured at PRINT is Eline van Dam (aka Zeloot). She is a graphic designer and an illustrator, working for magazines and newspapers such as Vrij Nederland and The New York Times. Recently, children's books have become an additional occupation. She talks to us about her work, passions and erasing something the dog left.
It all started ten years ago, in the basement of an old school building in The Hague. ''I organised experimental, underground concerts with Manuel Padding as Helbaard. In the building, there were performances, film screenings and other events for which posters and flyers had to be printed each time. We decided to set up a screen-printing workshop and start producing the material ourselves. I gave up my job in advertising and just went screen-printing like a madman – often pressed for time as the artists would only be confirmed at a late stage. Good thing I work well under pressure.''
not too much freedom, please
Different commissions require different strategies: Zeloot illustrates news articles, album covers, event posters. ''For an article I start by visualising the theme. I am a servant to the writing, which is a big challenge. I try to make it exciting, but at the same time the image has to communicate quickly and clearly. For an album cover, I follow my intuition more.'' This means that the process becomes more abstract, but also more personal: ''I don't do album art for music I don't like, that always leads to bad results.''
When asked which she prefers, working on commission or making work independently, the answer is in between the two: ''When I designed posters for concerts I had organised, that was the best feeling. It was autonomous and served the music at the same time.'' Although she studied visual art, working without a task entirely is not for Zeloot. ''I'm not comfortable with that; I prefer having some kind of context, reason, application for my work. And I need deadlines. Otherwise nothing happens.'' Freedom within the assignment, however, she cherishes: ''At Vrij Nederland, for instance, I've only had to make an alteration once – erase a dog turd.''
getting rid of the dust
Drawing for children's books became a new focal point by having kids. ''It's a really slow medium, totally unlike advertising, editorial work and posters. Here, you don't have to capture the whole story in one image. I see my children study every single page so intensely, which, for an illustrator, is heartwarming.''
Back to PRINT. Zeloot works with layers of colour in her printwork, yet with a limited palette. ''My works are always easily printable, and often very graphic in line and form. I like thick ink on paper.'' She emphasises the importance of print institutions. ''I live near Düsseldorf and I miss places where I can produce my work. For me, printing techniques and publishing are associated with all kinds of (sub)cultures. And a public workspace is a breeding place for new ideas and collaborations.'' Zeloot loves the idea of putting workshops in the spotlight: ''It's a very good thing: it shows the facilitating nature of those places but also the output created there. Print organisations may have had a slightly dull image in the past, and it's good to see them work hard to get rid of it. More and more young people take it up, perhaps the hipster interest in artisanship played its part… Anyhow, I'm thrilled to be part of an exhibition with people and institutions whose work I admire so much and of whom I know we have a print fetish in common!''
PRINT opens 27 June at WOW. Click here for details.
by WOW Amsterdam