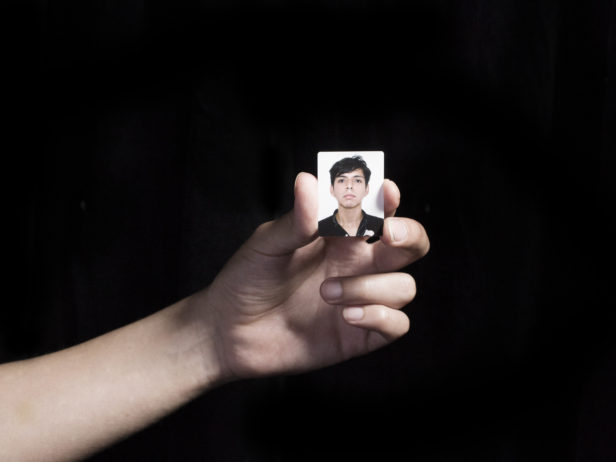 Eduardo Leon
Models wearing plastic bags, paint colour swatches as accessories, the wavy, nearly illegible but therefore striking design for a fashion show poster. Eduardo Leon's portfolio doesn't read like a regular graphic design portfolio would. His is a personal journey, conceptual, submerged in experience and hard to define. "I see my work as controlled chaos. A bit rough, and very personal. Everything I do is based on experience."
Eduardo, how did you get from Milan to living at WOW?
I was actually born in Peru, but raised in Milan. I studied graphic design there, but it was very commercial, not quite what I was looking for. I remember attending this nice exhibition about graphic design in Europe, and saw these fascinating works that weren't like anything I was learning at school. While in Amsterdam for an internship, I found out about Rietveld and decided to go there. Actually, looking back now, I realise all the awesome stuff I saw at that exhibition was made by Dutch designers, so it makes sense that I would end up here.
How do you think studying at Rietveld influenced your work as a designer?
It was a very free environment that allowed me to do what I wanted to do. There was a point where I felt like I needed to get away from the screen – which is hard to do as a graphic designer – so I started working with textiles. I wasn't entirely sure what I wanted, I just wanted to work with my hands, make something tangible. Textiles where my escape from the world of screens, but I guess it didn't really work out because I'm still behind screens most of the day [laughs].
Speaking of textiles- do you see yourself as a graphic designer or a fashion designer?
I'm a graphic designer who really likes fashion. I like the language, photography, playing with cinematography, and the aesthetics of advertisements and advertorials. My work in fashion isn't necessarily 'fashionable', if that makes sense. It's more of a means for me, it's about the visuals. I find it more interesting to build a character and create a few pieces around that character.
How would you describe your work to someone has never seen it before?
I would call it controlled chaos, a little rough, and very personal. All my designs start from an experience; a conversation with a friend or a random encounter on the street. I can't work on something I haven't seen or experienced, observation is very important to me.
You run a project called avoidstreet. Can you tell us about that?
Avoidstreet is my alter ego when I'm experimenting with fashion. I'm fascinated by the idea of editorials, this fictional image about something desirable, something you just need to have. Yet avoidstreet is actually all the things you don't want to have, it's just found items, materials and second-hand clothing that I've given a new purpose. I believe in never using anything new, because everything has already been done.  Prints may have changed, culture changes, colours and materials change, but the shapes of fashion are always the same. I think people like to stay in their comfort zones.
Where do you find the materials for the avoidstreet pieces?
Everywhere! From the garbage at WOW to friends, neighbours, or markets. It's always random, which makes it exciting because it's always unexpected. It could be anything, as long as its quality material. Selection is very important in this process, because everything starts with the material. If you find something with a stain, for example, you might choose to hide it, or repair it, or work with it. It's a very responsive, creative process.
Do you sell those clothes as well or are they just art pieces?
I've sold a few items, and am planning to put up a website with an online store. That's the next step! Although I would love to see my collection in an actual store as well, even just as an experiment. How would people react to a 'new' collection made out of old stuff? Would they see my collection as 'just' second-hand clothes or as something more?
Is this idea of repurposing old clothes and materials important to you?
Definitely, it's one of the reasons why I started avoidstreet. I don't think I would ever want to do a 'new' collection, just because there's already so much great material around to work with. Plus, it's cheaper, and I learn a lot from the things I find. The seams, the buttons, the way a garment is put together. It's like an archive of materials, a little history book of fashion. There are so many fashion designers out there, there's no need for me to add myself to that roster. For me, it's more helpful to understand why we buy so many clothes, why we need so many clothes. I can do that without making anything 'new'.
What does an average work week look like for you now?
I freelance part-time for Calvin Klein – so I suppose I am currently moving more towards fashion – for their accessories department. It has been a great experience, a completely new area of fashion for me to get acquainted with. I'm also working on a freelance project for Rietveld, creating uniforms for their football team. Also interesting, because I'm definitely not into football, so it's a fascinating project to work on. I also recently did a newspaper for WOW, and am working on the design for a think tank run by a former teacher.
How does your work at Calvin Klein fit into the philosophy of your other work?
It's very educational for me, because it's so technical. It gives me an interesting insight of how accessories are produced, how an idea goes from mood boards and materials to garments, and then the translation of the essence of that garment to an accessory. In terms of graphic design, it doesn't fit with my work at all, but when you look at avoidstreet, it's a place where I can learn a lot. Accessories are all about the small details, transforming an outfit into something completely different. In that sense, it's very similar to what I do with avoidstreet.
You've been at WOW since October, do you have any goals in mind of what you want to accomplish here?
I've actually had this idea of a small vending machine. It would be a souvenir / exhibition space, for the tourists at the hostel. The idea was to ask all the artist to make a work that fits within the context of this vending machine, something small about the city or the neighbourhood and how we experience it. You only ever see tourists in the city centre, you don't really see them doing things in other parts of the city, so there's a lot they don't get to experience that the artists could enlighten them about. I haven't started this project yet though, so we'll see!
If you're curious about Eduardo and avoidstreet, you can join his upcycling workshop during WOW FASHION INSIDE OUT on Sunday 24 June.
Words by Suzanna Knight / Photo by Roman Ermolaev
by WOW Amsterdam
All my designs start from an experience; a conversation with a friend or a random encounter on the street.