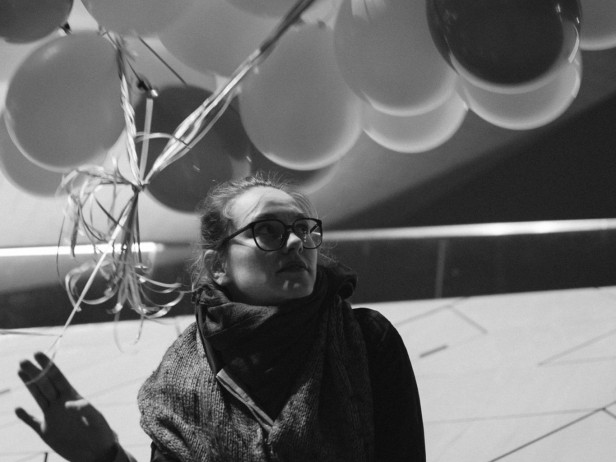 Anouk van der Laan
Anouk van der Laan, former WOW artist in residence will be one of the fashion designers participating in MBFWA OFF SCHEDULE WOW Fashion Volcano on January 16th.
On a cold winter's day, Anouk's yellow and red scarf seems like the perfect solution: comfortable, warm and beautiful.
BEGINNING AND INSPIRATION
Anouk started with the knitting machine she had at home. "It was the easiest way for me to start, I would try immediately what came to mind". She started with some unique scarfs, which sold out immediately. Her inspiration just happens, it's not graspable, it comes from many impressions she gets during the day. "At the same time, in the realisation of my products I also need to think of practical problems, as a small designer I'm somehow dependent on what materials I can get. I used to use these very nice Dutch yarns, which were perfect since the name of my company is Winter in Holland, however they stopped production and I had to learn to dye the yarn myself".
SCARFS, SCARFS, SCARFS
A scarf is an incredibly functional piece of fabric, it needs to be warm, soft, pretty, it has to go with a lot of clothes and at the same time protect you from wintery weather. So it is at the same time a simple and incredibly challenging product.
For a small company it is a perfect product, you don't need to have sizes as would be the case with a sweater or another clothing item, and it is the most functional way to show textile design. "I'm after all a textile designer, not a fashion designer, even if I want to make fashion, but I want to develop more on the textile part of fashion. So scarfs were just the clearest way for me to develop a company of textile design".
MORE THAN WINTER
Although the name is Winter in Holland, Anouk designs products for all seasons. Other than cushions with the same textile of the scarfs, she designs a cotton tea towel. "I used to make them by hand, but that was way too much work, and I did not want the price of a tea towel to be too high". So she found a solution in having a Dutch factory. "When I found out that it is exactly the same product even when you make it in a good factory, and in this way I can really commit to the handwork and new designs".
The materials determine the methods of production, with certain materials it is possible to see on the products when it is machine or hand made, that is the reason why it is important for her to keep the woollen collection hand-dyed and handmade.
And from this year she also has the help of the Gildelab, with the hope of having no more waiting queue for her products, but also to give the possibility to the women of the Gildelab to show their talents. "I want them specifically to make my products because they are good at what they do and there is more of a human and personal connection than if I had to deal with a big company".
NEW SKILLS AND CURIOSITY
Anouk's curiosity and will to learn new skills brought her to the mountains in Italy to follow a course on how to weave on a hand loom. "At the AMFI, where I studied, I learned only how to knit, because there is no space for weaving machines." Back home she bought one of her own and started experimenting on new designs. "I started designing something way too complicated for factories and I got turned out by several, until I found a guy in England who rebuilds antique looms, a one-man company like me." What comes out is a very unique product, with still a lot of personal connection. A connection that gives Anouk the possibility to be flexible with her products, more than she could with a factory.
DESIGN AND TECHNIQUE
There is a complicated relationship between design and technique. To have a specific dye in her yarn she developed a special technique with her mother, a whole installation to aim to have all the yarns dyed as similarly as possible.
"Sometime you just have to start with a technique to get inspiration and then you start on the road to inspiration. But it is only when you master a technique that you have the room to explore. You cannot design a sweater if you know how to make the pattern. But as soon as you know the possibilities, then your mind goes". This is the reason behind her desire to keep on learnin. "Because it gives you so many possibilities to design more and to do things that you haven't seen yourself before. And then you know how to execute your ideas".
EXPERIMENTING
"Basically there is a lot of experimenting". She starts from yarns, texture and colors that are in her mind and begins experimenting and tries to finalise the spark of ideas in her mind.
Anouk decided not to make a new collection next year, but to concentrate on tapestries and fashion incorporation with other designers. "Winter in Holland is small, but people are starting to know it. So it is not bad to stand still and build from what I already have, to have a proper and solid foundation". The most important progress for her in this past year is setting up a production company, so that she is not alone anymore, and now she wants to use this time to do new things. "But if I keep making new collections, when will that ever happen?", she asks. Also working together with other brands gives inspiration, because it is a way to see new things. "As a designer you randomly pick up things that will be coming, you pick up what is in the air".
WOW
"My residency in WOW was a step towards becoming a professional. I moved a lot around Amsterdam, I dragged my knitting machine along and I could not have a stock of yarns. I was happy to have a place to stay for a whole year, it was really a step towards an atelier. I could buy more knitting machines and store yarn, I knew I did not have to move. Also experiencing how people can be focused on what they want to do in their creative field was a new experience, seeing young people being so professional, you see that you are not alone in this. It gave me stability".
To see more of Anouk's creations visit her website.
by WOW