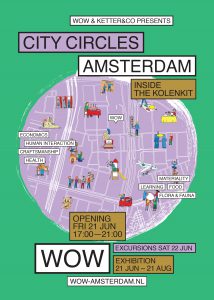 In collaboration with Irene Fortuyn, KETTER&Co and Design Academy Eindhoven (DAE), WOW presents City Circles Amsterdam during the WeMakeTheCity Festival.
City Circles is a project investigating the human factor within an urban circle with a diametre of one kilometre. City Circles inspires, activates and shows the ability and resilience of man to shape their lives in any given urban microclimate. After City Circles in Athens, Madrid and Istanbul, this year Rotterdam and Amsterdam hosted City Circles.
Over the past months, six WOW Artists in Residence and eleven students of DAE researched the Kolenkit based on the following themes: Learning, Food, Materiality, Craftsmanship, Flora/Fauna, Human Interaction, Rituals, Economy, Flow.
Friday June 21st, the new WOW Gallery opens its doors to the public specially for the City Circles Amsterdam exhibition. The results of the investigations in the Kolenkit will be shown in a variety of media.
On June 21 and 22 a variety of excursions guided by the researchers, will take you into the neighbourhood. Curious to find out the best place in the Kolenkit to sing out loud? Or are you interested in an intimate tour of the architectural highlights of the hood? Join us on Friday, June 21st at 17:00 for the opening of City Circles Amsterdam.
to book the visit to the WOW GALLERY, please write an email on the wow mail.   
wowamsterdamstudios@gmail.com
---
PARTICIPANTS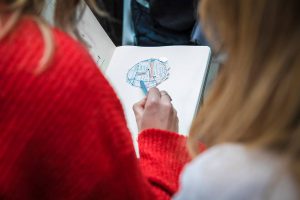 WOW Artist in Residence
Kristina Daurova / Arie de Fijter / Louis Hothothot / Miyuki Inoue / Tom Kemp / Monica Mays
DAE Students
Jade Badra / Aurelie Defez / Hao Du / Daniel Laufs / Britt Peeters / Janneke Schouten / Imke Sloos / Filips Staņislavskis / Ignacio Subias / Lola Tual / Marvin Unger